You know a golf-starved country finally won its first men's major championship. That the Ryder Cup was not so much a golf tournament as it was a boat race, that Jin Young Ko and Nelly Korda could not be stopped, and that after a year of uncertainty there seems to be cautious optimism regarding the future prospects of a certain 15-time major winner.
But a lot of other things happened in 2021, a lot of things you may have forgotten. Or perhaps tried to forget. Either way, take a moment to reintroduce yourself to the year that was in golf.
"Feherty" signs off
After a 10-year run that featured a unique blend of comedy and conversation, David Feherty's eponymous golf talk program officially ended in January. "I think a lot of people are going to be surprised that it got canceled," Feherty told Golf Digest's Dave Shedloski. "It always sort of amazed me the [number of] people that watched. Ten years is a whole lot more than I thought I would do. I loved doing it."
• • •
Bryson's internal OB at the Players
After the beefy man mused an alternate strategy for the 18th at TPC Sawgrass—chiefly, taking the lake out of play by aiming towards the ninth hole—the Players Championship rules committee responded by implementing internal out-of-bounds for "player safety." Give Bryson credit: When an organization is changing rules on the fly because of your play, you know you've made it.
• • •
Viktor Hovland gets a two-shot penalty thanks to his … mom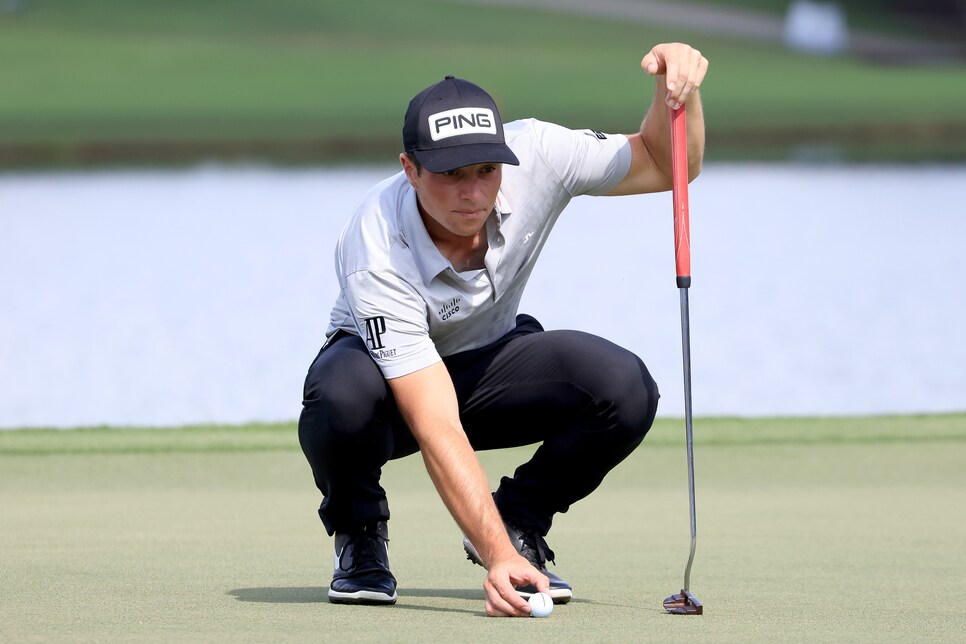 Sam Greenwood
After Viktor Hovland turned in an opening-round 70 at the Players, the tour the Norwegian had been docked two strokes under Rule 14.7 for playing a ball from the wrong place. How that ruling ultimately came to pass is a doozy. Hovland was heading to his car when his mom called and asked him if he was going to get penalized for what happened at the 15th. Hovland didn't know what she was talking about, at which point his mom dropped some tough love on her boy. "He and his caddie reached out to our committee and asked if we had any video of it, because he had no recollection of doing it," rules official Gary Young later relayed. Video confirmed that Hovland failed to put the mark in its original spot—instead of moving the ball back the putter head to the old spot, Hovland moved it another putter head in the opposite direction—thus leading to the penalty. The worst part? Had the penalty not been enforced, Hovland would have made the cut on the number. However, golf is a game of honor, and Hovland can take solace that he told the truth. So in that vein … mothers, they always know best.
• • •
The Na-Johnson kerfuffle
By law a match-play event must have at least one gimme-related controversy (also, "kerfuffle" must be used to describe said issue). After Dustin Johnson quick-raked a six-inch putt during a match at the WGC-Dell Match Play Championship in March, opponent Kevin Na chimed in that Johnson needed to wait for Na to concede the putt before picking it up. Afterwards Na, who won the match, said there were no hard feelings, but Johnson's indignant stare said otherwise.
• • •
Faldo takes a swipe at Fowler and his commercials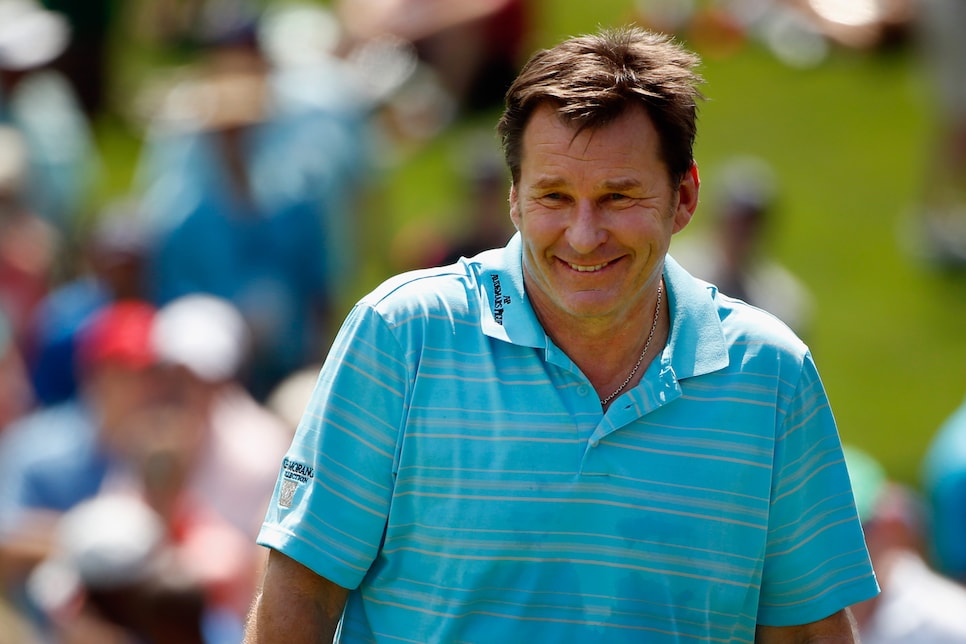 Getty Images
Six-time major winner and CBS Sports analyst Nick Faldo decided to have some fun at the expense of Rickie Fowler and his prospects of not receiving an invite to Augusta National. "Good news is if he misses the Masters he can shoot another six commercials that week!" Faldo wrote on Twitter, evoking a popular criticism of Fowler's portfolio of seeming ubiquitous endorsement deals. It was a bit of a low blow to the then-slumping Fowler (who ultimately did not play in the Masters), and given Faldo's endorsement of a shoe that promises 15 extra yards of distance, perhaps he was not the best messenger. Faldo somewhat walked back the statement a few days later, saying he was trying to "motivate" Fowler and that it was all in good fun. For his part, Fowler took the high road. "No, I know where Nick was trying to come from on that," Fowler said, "and it's like competitor to competitor, you're trying to needle each other and get each other going type of thing."
• • •
DJ's Champions Dinner menu
In a game known for its exclusivity and elitism, Johnson carries himself as more of a man of the people—and lived up to that billing when sharing his menu intentions for his Masters Champions Dinner in April after his 2020 November win at Augusta. Specifically, DJ's aspiration to serve pigs-in-the-blanket at the most revered meal in sports. While Augusta National did a slight variation on the nomenclature—the menu officially read "Smoked Kielbasa in puff pastry"—it's worth mentioning that life is not found in an end goal but in the pursuit of it.
The annual celebration returns – the Champions Dinner. #themasters pic.twitter.com/RJbJA9OUjC

— The Masters (@TheMasters) April 7, 2021
• • •
Jordan Spieth meets Borat
Golf had been looking for a sign, any sign, that Jordan Spieth was back to being Jordan Spieth. Such a vestige was delivered during Saturday's round of the Waste Management Phoenix Open, when the three-time winner turned in a 61. But it was not the score that signaled the aura had returned but the sight of … well, Borat. A fan dressed as the fictional television journalist fell out of his seat as Spieth was lining up a birdie putt at TPC Scottsdale's 17th hole, causing a scene (which, given the tournament's reputation, is a damn tough thing to pull off). Spieth backed off his putt and laughed, proceeded to drain a 30-footer and pointed at Borat as the crowd collapsed on itself. One problem: "When I made it, I was pointing at him. I didn't realize he was getting arrested at the time because I hadn't seen him since he fell out of the chair," Spieth later explained. "I looked up and he was getting arrested, so when I pointed at him it got him going even more, which was not the plan. I thought he was going to just yell louder. Then they wanted him to jump in the water and then he was trying to and resisting."
• • •
Jin Young Ko goes low
Jin Young Ko carded 14 consecutive scores in the 60s, matching the LPGA marks of Annika Sorenstam (2005) and So Yeon Ryu (2016-17) for most in tour history. Unfortunately, it came to an end at the BMW Ladies Championship, but Ko still got the last laugh, winning the event on the way to Player of the Year honors.
• • •
The Walker Cup stomach bug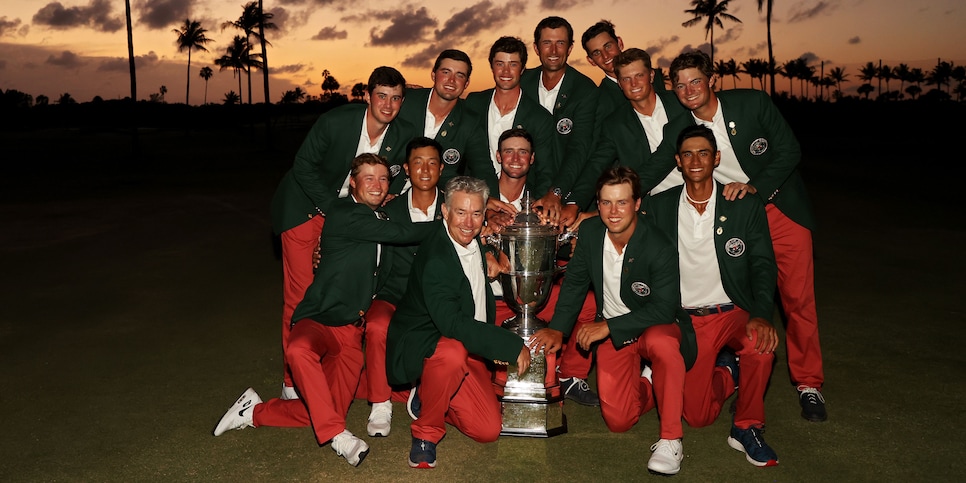 Cliff Hawkins
Gut-check moments happen all the time in golf tournaments, but at the Walker Cup in May they occurred on a much more literal basis. During practice rounds ahead of the two-day competition at famed Seminole Golf Club in Florida, a stomach bug hit 14 of the 24 golfers on the U.S. and Great Britain & Ireland side (as well as both team captains, forcing several players to go to local hospitals for IV fluids. Thankfully, USGA and R&A officials were able to rule out COVID as a cause, but the situation did force them to change the terms of competition to allow alternates to be used as regular members of the teams and let players move in and out of the lineup to replace sick golfers at any time before a match began. (Defending U.S. Amateur champion Tyler Strafaci was pulled literally 15 minutes before one of his matches after feeling ill on the driving range.) Things finally seemed to have settled down by Sunday, the heavily favored American side eventually prevailing by a narrow 14-12 margin.
• • •
The Bryson Net
The good folks at the RBC Heritage spent thousands of dollars to install a larger driving net to protect the eighth hole from DeChambeau's incoming missiles. One problem: After coming out of the business end of Augusta National once again, DeChambeau pulled out of the tournament.
Working the Heritage this week and they paid thousands for these cranes to hold up this net so Bryson doesn't hit it over the range on to #8 green… Bryson withdrew today ???????? pic.twitter.com/PIbQimyu3U

— Tommy (@imsowaivy) April 12, 2021
• • •
A fight broke out at a Korn Ferry qualifier
Sorry Brooks and Bryson, golf's real face-off went down during a Korn Ferry Tour Monday qualifier for the Wichita Open. That is where Austen Dailey and Luke and Oliver Smith turned to actual fisticuffs. Facing pace-of-play problems, Dailey was peeved that the son-father combo did not help him look for a wayward drive, Oliver (caddieing for his son) responded things would get moving if Dailey could hit it straight, Luke jumped in to physically attack Dailey, and when the third member of the group tried to intervene, Oliver allegedly told him to stay out of it. Who says golf isn't a contact sport?
• • •
The Torrey Pines streaker
Speaking of Monday qualifiers, remember the YouTube personality who shot a 108 at the KFT's Veritex Bank Championship? That was the same cat who decided to streak during the final round of the U.S. Open. When Bryson DeChambeau and Scottie Scheffler arrived the par-5 13th, Connor Murphy, draped in a rainbow flag, ran inside the ropes and took a few swings before being tackled into tomorrow by security. Apparently the streaker swung bad juju in DeChambeau's direction, because DeChambeau—looking to successfully defending his Open title—put his third in a bunker and his fourth flew next to a case of beer (you read that correctly). The chip was good, but the putt wasn't, with a double-bogey 7 ending his tournament.
Thankful to @beemerpga for doing the lord's work videoing the 13th hole nutter at the US Open pic.twitter.com/xoUzWcQwr3

— Amanda Rose (@amandagolf59) June 20, 2021
• • •
Golf's most controversial club pro returns
Omar Uresti made over 377 starts on the PGA Tour, but thanks to a loophole in the PGA of America's system, Uresti has competed against club professionals, which allowed him to once again capture the PGA Professional Championship and qualifying for the PGA Championship at Kiawah. While others have taken advantage of the PGA of America's loophole (PGA Tour players can earn a Class A designation after playing on the tour for a certain amount of years), none have found the success that Uresti has, raising the question if what Uresti is doing is ethical. Uresti ultimately missed the cut at the PGA Championship in May.
• • •
Phil wins the PGA Championship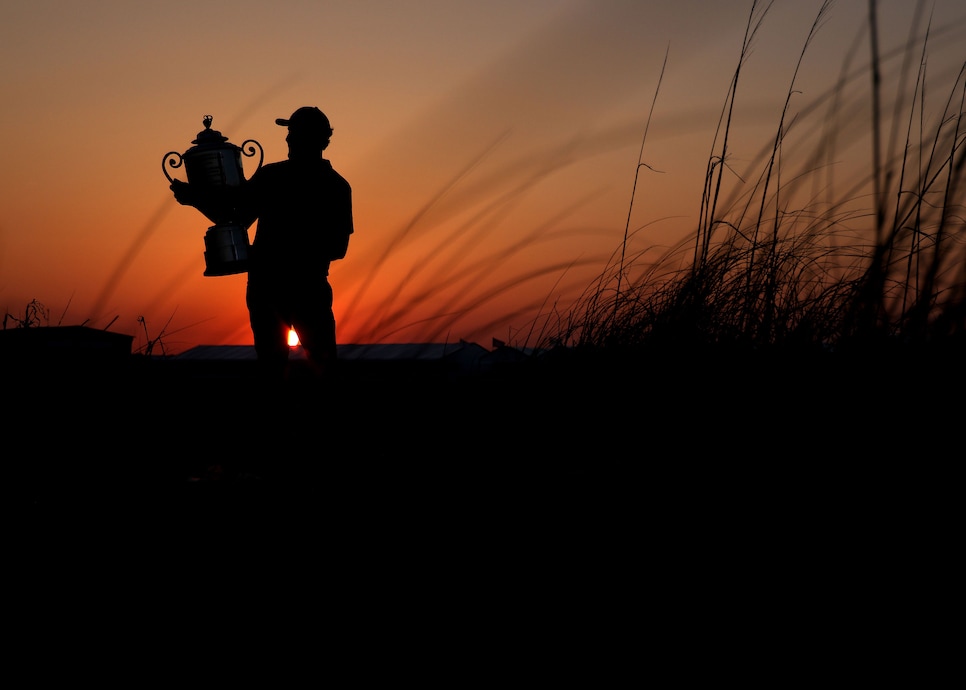 Patrick Smith
Sorry, just making sure you were still paying attention.
• • •
A 10-stroke penalty
Yes, apparently that is a thing, as Mark Hensby discovered at the Palmetto Championship. After Hensby hit a shot into the water at the fourth at Congaree, he grabbed a new ball from his bag. But at the eighth he realized the ball had a small dot on it, realizing he had picked up one of Pat Perez's balls off the putting green before his round. Hensby informed a rules official, who then gave Hensby a two-shot penalty for each hole he had played with the wrong ball.
• • •
Bones is back
The beloved bag man turned in his microphone to return to life as a full-time caddie, pairing with Justin Thomas after Thomas and his loop Jimmie Johnson decided to part ways following the Ryder Cup. Since breaking up with Mickelson in 2017, Mackey had caddied sparingly while working for NBC Sports, with one of those part-time jobs delivering a win to Thomas at the 2020 WGC-FedEx St. Jude Invitational.
This article originally appeared on Golf Digest.