It's almost time for Thanksgiving which means it is also time for another important tradition – the Skins Game. The Skins Game has a rich history of memorable moments. From cheating allegations to PGA Tour pros in skirts, this event has had it's share of unforgettable memories. Here's a closer look some of our favorites.

7. Camera tossed in a lake (2002)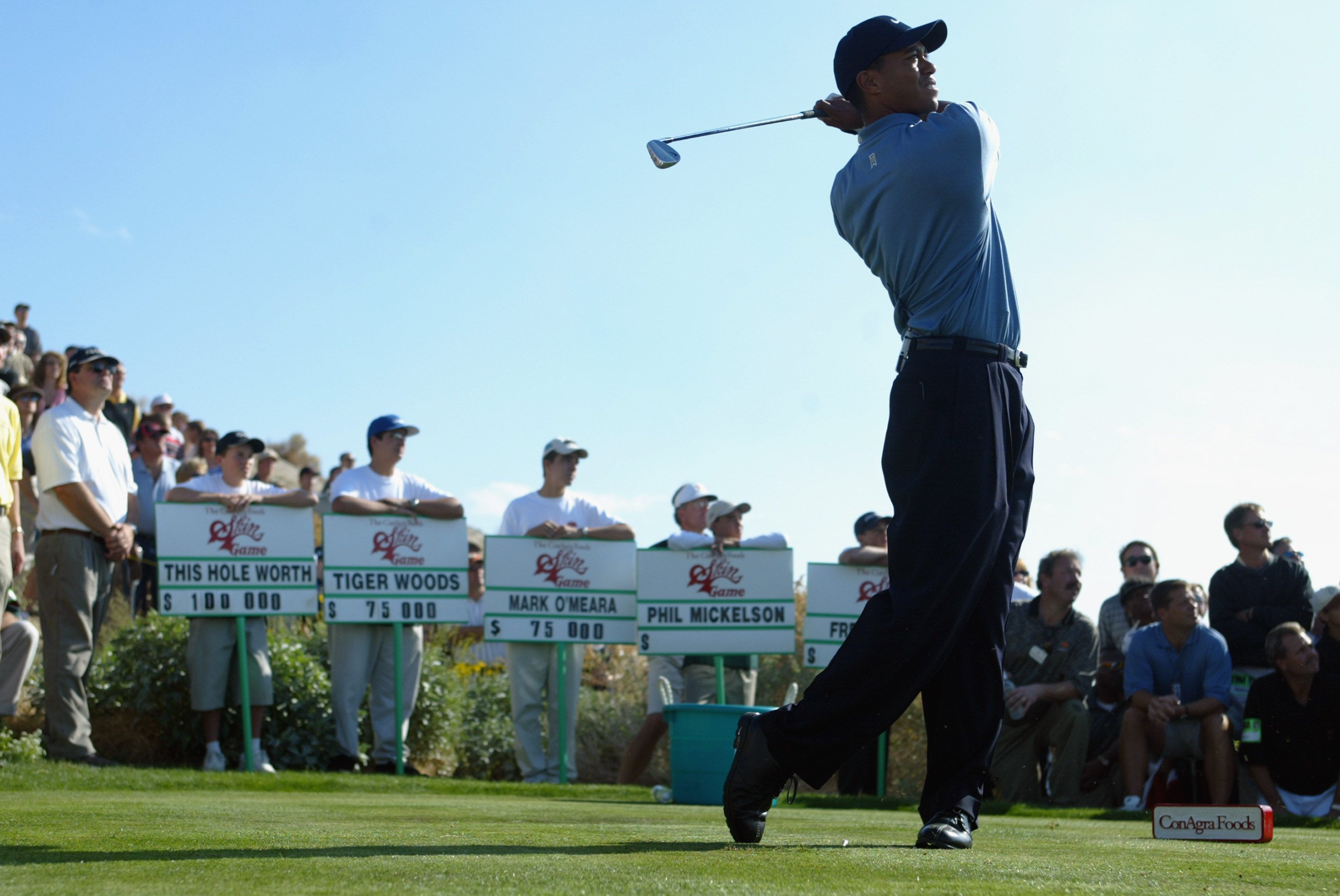 Tiger Woods hits a tee shot on the eighth hole during the 2002 Skins Game. (Jeff Gross/Getty Images)

This memorable moment began when Tiger Woods tried to escape bunker at the 2002 Skins Game at Landmark Golf Club when a fan's camera clicked during his back swing. Tiger's caddie, Steve Williams, did not like it, taking the camera and throwing it into the lake. Williams was asked about the incident in 2002 in an interview with Golf Digest: "Do I regret tossing a fan's camera into the water at the 2002 Skins Game? No," he said. "The fan was taking pictures on the players' backswings all day. I told him repeatedly not to do it, and he couldn't have given a damn. He just kept snapping. … As we walked across a bridge toward the clubhouse, I saw the fan and asked, 'May I have your camera, please?' For some reason he let me take it, and I stuck my arm out and dropped it into the water. I think Tiger wound up paying for the camera."
6. Funk wears a skirt (2005)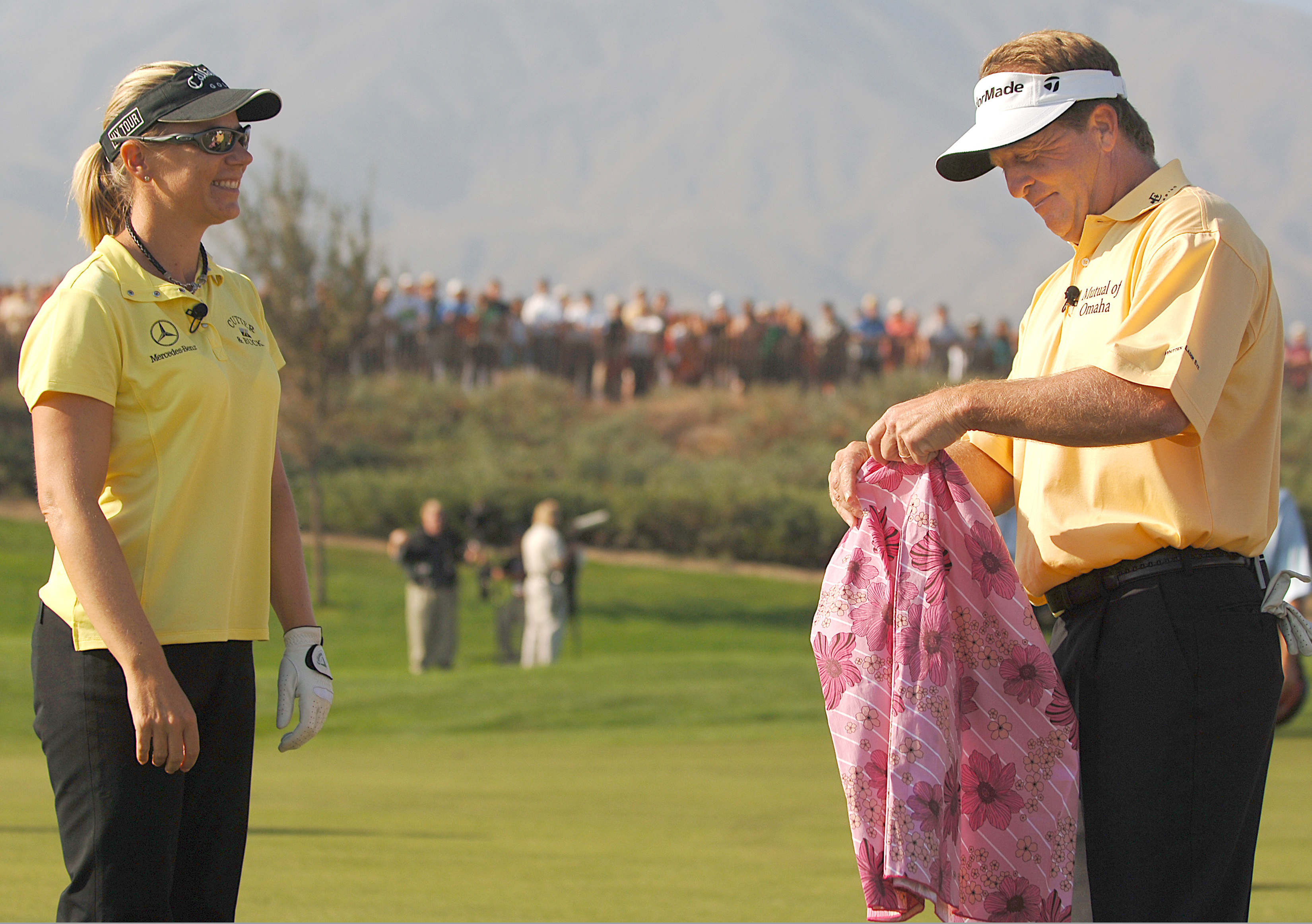 Fred Funk receives a skirt from Annika Sorenstam after she outdrove him at the 2005 Skins Game in La Quinta, California. (Steve Grayson/Getty Images)

Fred Funk had a bet with Annika Sorenstam in 2005 at Trilogy Golf Course that he would wear a skirt if she out drove him on a hole. Funk was a man of his word. When the third hole came around and Sorenstam outdrove Funk, he threw on a pink, floral, knee-length skirt over his pants on that hole, but it didn't mess with his game on the rest of the front nine. Funk won six skins, $225,000 and even sank a 25-foot eagle putt from the fringe. The next day, Funk became the oldest Skins Game winner at 49, defeating runner-up Woods, Sorenstam and Fred Couples, pocketing $925,000.
5. Annika makes Skins history (2003)

Annika Sorenstam celebrates after making an eagle on the ninth hole and winning four skins worth $175,000 during the 2003 Skins Game. (Jeff Gross/Getty Images)

Two years before outdriving Funk, Sorenstam made Skins Game history, becoming the first woman to play in the event at the Golf Club at La Quinta. Sorenstam, who had played in an official PGA Tour event six months earlier, went up against Fred Couples, Mark O'Meara and Phil Mickelson. Her most memorable shot of the match occurred on the par-5 ninth. She hit her shot from the bunker off the far side of the green and it found the cup for an eagle. While Couples won the event, Sorenstam proved the choice to include a skilled golfer who happened to be a woman wasn't a mistake, finishing second and earning $225,000.
4. Fuzzy beats Jack, seals it with a kiss (1985)
How many golfers have kissed Jack Nicklaus? Fuzzy Zoeller can raise his hand because of his win at the two-day 1985 Skins Game at Bear Creek Golf Club in Murrieta, California. The game didn't initially favor Zoeller, who said he had spasms in his hip the first day. He made no birdies in the opening round of his first Skins Game but turned it around on the second day. Other than his win, his most memorable moment in this Skins Game was when he made a birdie putt on 15 and Nicklaus missed his. Zoeller thanked him with a pretend kiss on Jack's cheek. Zoeller went on to win after making a 35-foot birdie putt — his fourth birdie of the day — on 18.
3. Tiger holes out in a chip-off (2009)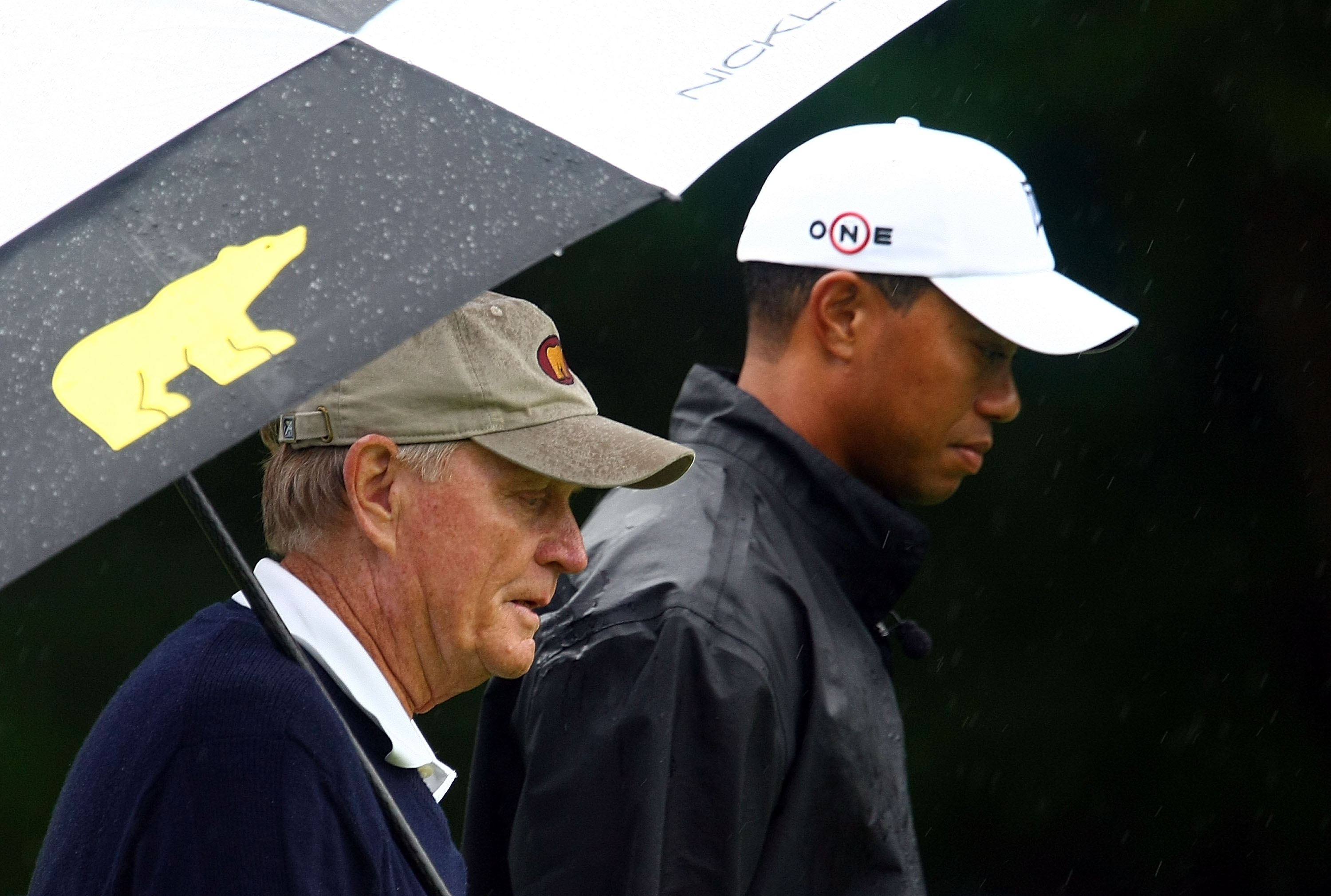 Jack Nicklaus and Tiger Woods play at Muirfield Village Golf Club in 2009 in Dublin, Ohio. (Scott Halleran/Getty Images)

Tiger Woods played against Stewart Cink, Kenny Perry— the defending champion of the Memorial Tournament at the time— and Jack Nicklaus for a Double Skins Game at the Memorial Tournament at Muirfield Village. The first time Woods and Nicklaus played together in nine years, the 2009 Double Skins Game was yet another clutch win to add to Woods' resume. Woods sent the match into a chip-off on the par-4 18th when he sank a 15-foot putt to save par. He then won the day by holing out his chip from the rough in the chip-off contest. Woods won $37,000 in the Double Skins Game and donated half to The First Tee.
2. Player accused of cheating (1983)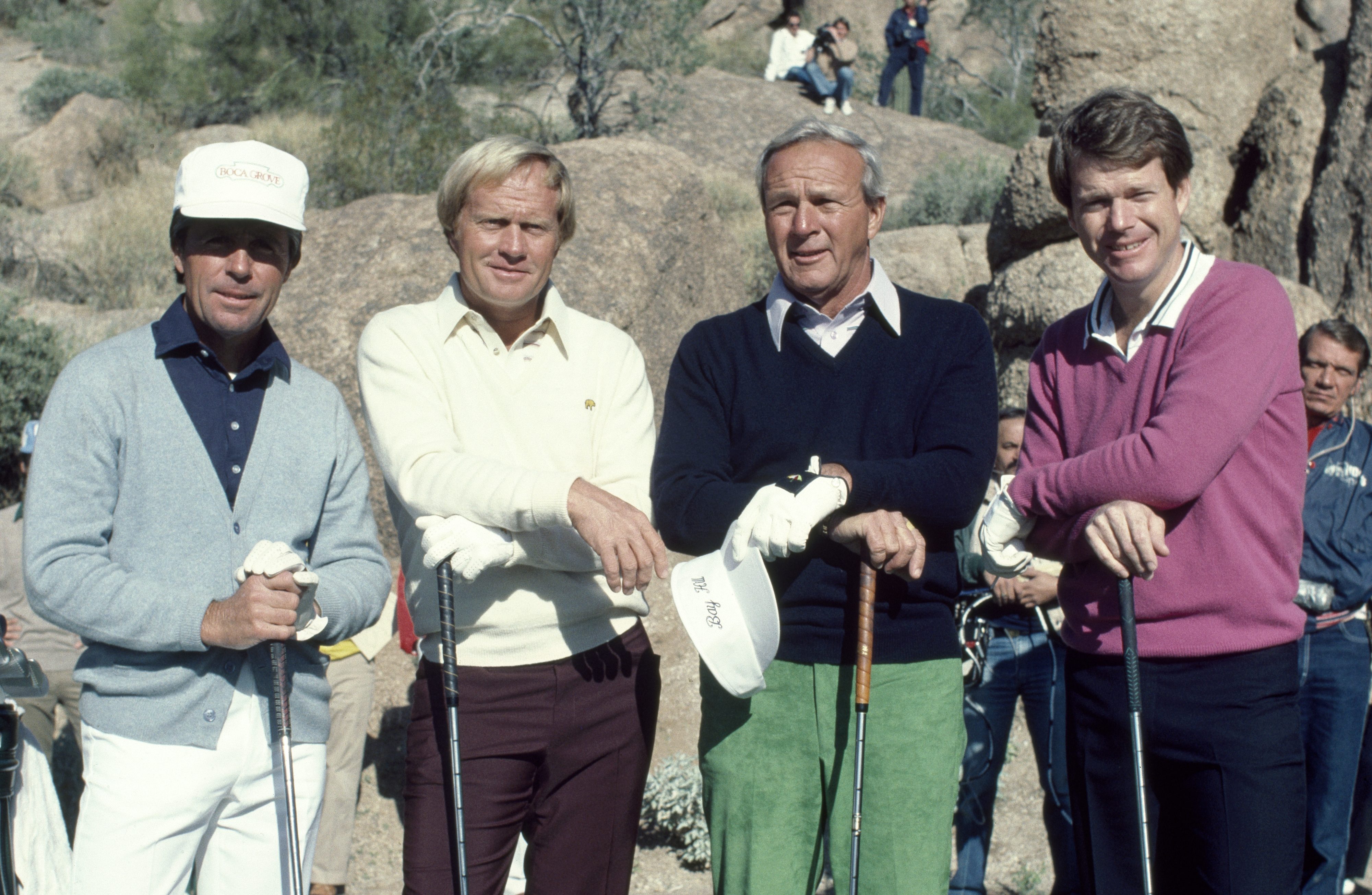 From left, Gary Player, Jack Nicklaus, Arnold Palmer and Tom Watson play in the 1983 Skins Game at the Desert Highlands Golf Club in Scottsdale, Arizona. (Brian Morgan/Popperfoto via Getty Images)

Any sporting event is better when the players are passionate and there's drama involved. During the inaugural Skins Game in 1983 at Desert Highlands, tension broke out on the 16th hole when Tom Watson accused Gary Player of cheating. With $120,000 on the line, Watson was overheard confronting Player about improving his lie, which Player viciously denied. Watson even released a statement after the game that said in part, "If we overlook the rules, then the game as we know it would become something much less than it is." Talk about drama.
1. Trevino's ace (1987)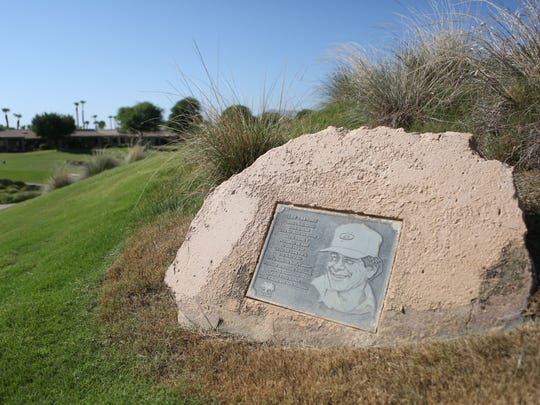 A plaque commemorates Lee Trevino's hole-in-one in the 1987 Skins Game near the tee at the 17th hole at PGA West in La Quinta. (Marilyn Chung/The Desert Sun)

How could we choose any other for our most memorable moment? Playing against Arnold Palmer, Jack Nicklaus and Fuzzy Zoeller, Lee Trevino recorded an ace with a 6-iron on the 167-yard par-3 17th at PGA West to win the 1987 Skins Game at PGA West's Stadium Course. The gallery cheered when the ball disappeared into the cup on the island green, and Trevino won $175,000 for the ace that was the cherry on top of his sweep on the back nine. Nicklaus and Zoeller shared runners-up honors.

By JuliaKate E. Culpepper

This article originally appeared on Golfweek.