They say beauty is in the eye of the beholder. But when it comes to our course rankings, we keep our panelists to a certain set of parameters in determining a score for our Aesthetics category: How well do the scenic values of the course (including landscaping, vegetation, water features and backdrops) add to the pleasure of a round? So though our definition of Aesthetics isn't asking to strictly judge beauty, it is to a degree. Because finding a great golf course that is also a satisfying visual experience is, well, a beautiful thing. Herewith, these are the highest scoring courses in our most recent 100 Greatest and Best in State rankings in our Aesthetics category.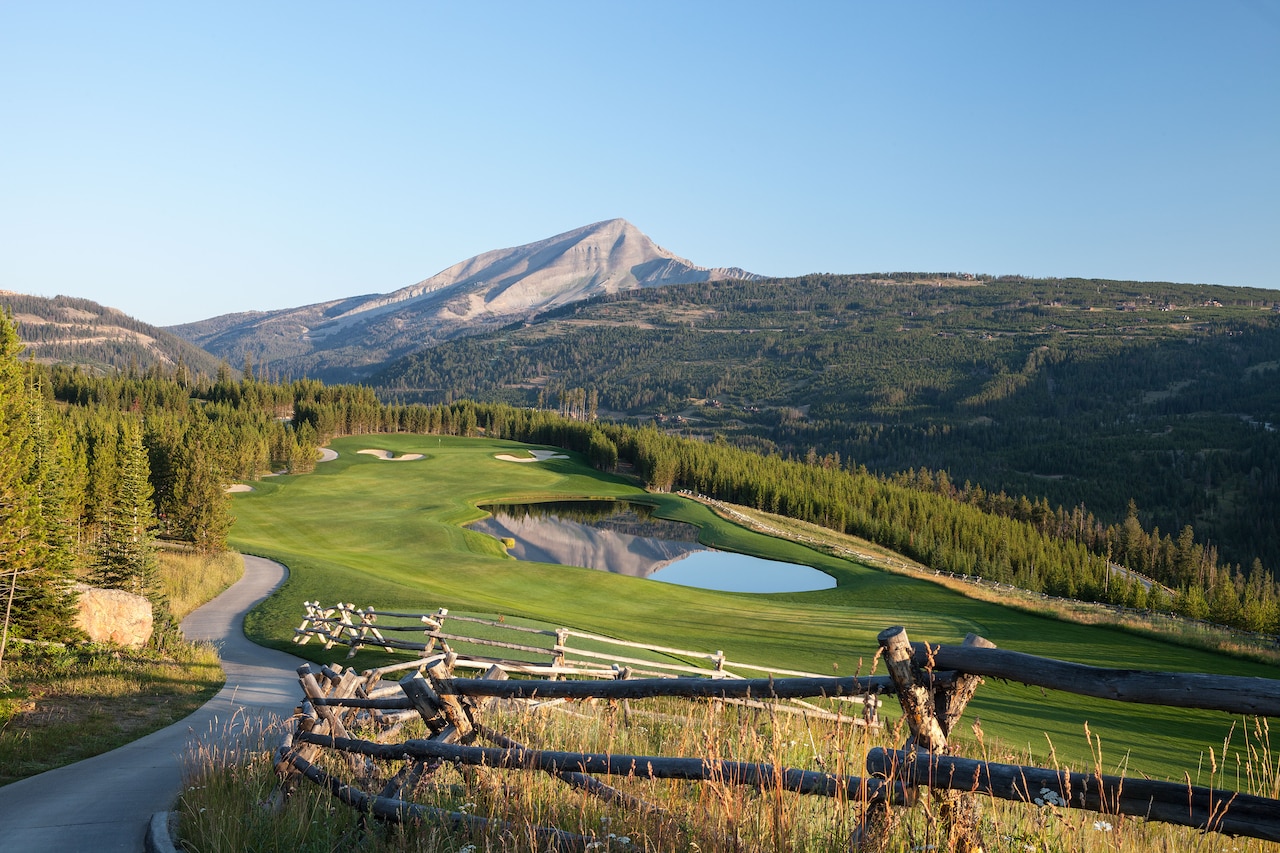 20 | The Yellowstone Club, Big Sky, Mont. (8.2000)

The ultra-swanky private ski resort also features a Tom Weiskopf-designed course with rolling terrain like you'd expect from a ski mountain. Michael Meldman's Discovery Land group took over club operations in 2009, and the club has recovered from financial issues, as it's ranked as the fourth-best course in Montana in Golf Digest's latest Best in State rankings. –SH

Golf Digest panelist comments:"Stunning views and a handful of great holes, especially the par 3s. The land is heavily sloped as any ski resort property would be — it's an outstanding property.""Beautiful, scenic course with terrific elevation changes with mountain backdrops.""Tom Weiskopf did an exceptional job building a golf course on the side of a mountain, with 2,100 vertical feet from the high point to the low point of the course."

Photo By: Aidan Bradley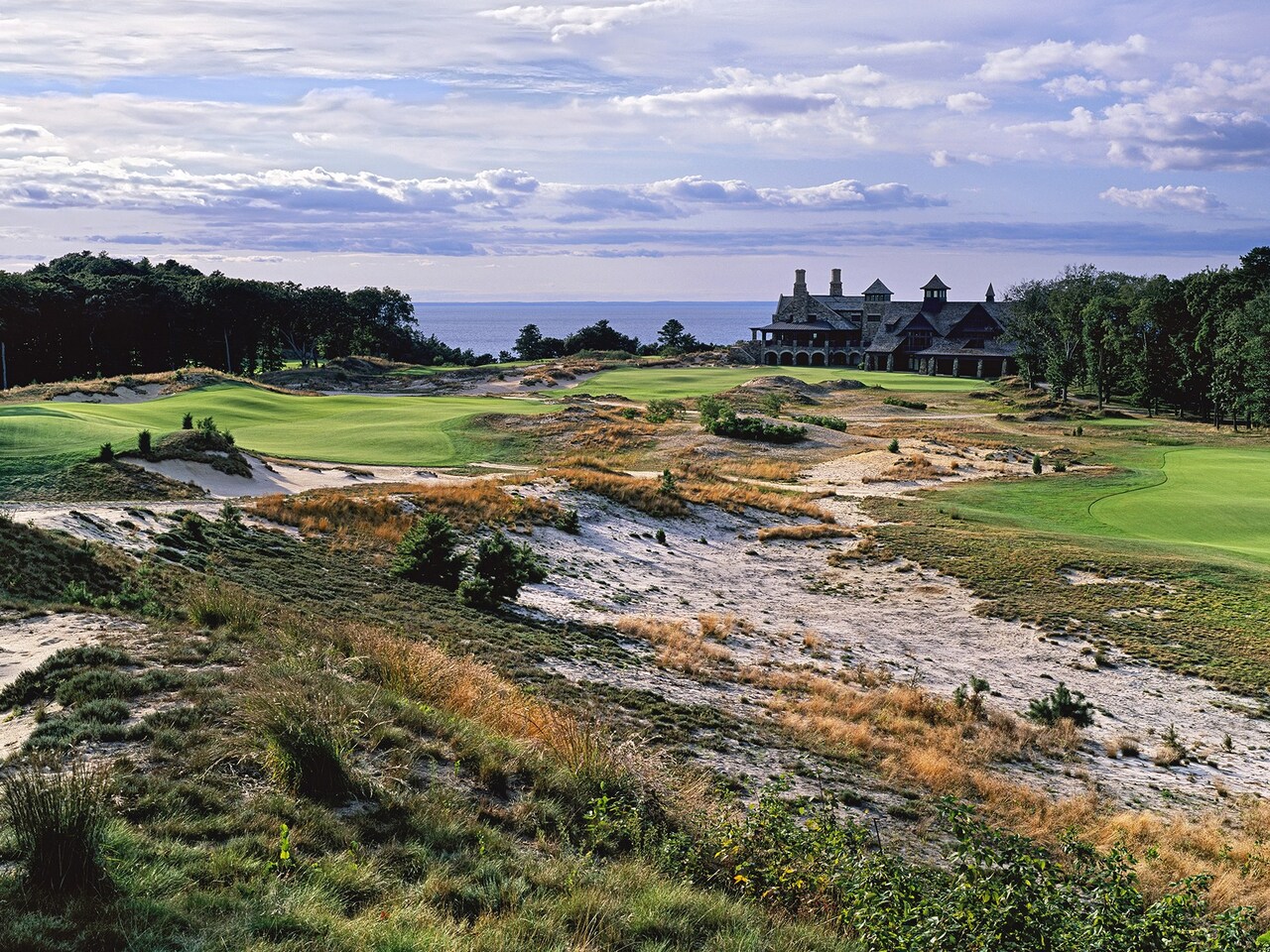 19 | Friar's Head, Baiting Hollow, N.Y. (8.2619)
Perched 200 feet above the Long Island Sound, this rugged, unique Coore & Crenshaw design has risen up to No. 19 on our America's 100 Greatest ranking. –SH
Golf Digest Panelist Comments:
"Other than Cypress Point, Friar's Head has the best transitional settings I've ever seen — going from dunes to the potato fields, back toward the dunes, back to the fields, toward the water, then back to the clubhouse. It's like three courses in one.""The walk to the 16th tee along the new bridge is sensational. Such an amazing spot to soak in the views of the Long Island Sound on a beautiful summer day.""An unbelievable setting for golf. Friar's Head has that rugged Pine Valley feel while also possessing linksy qualities, though it weaves through the pines at points. Just a sensational routing."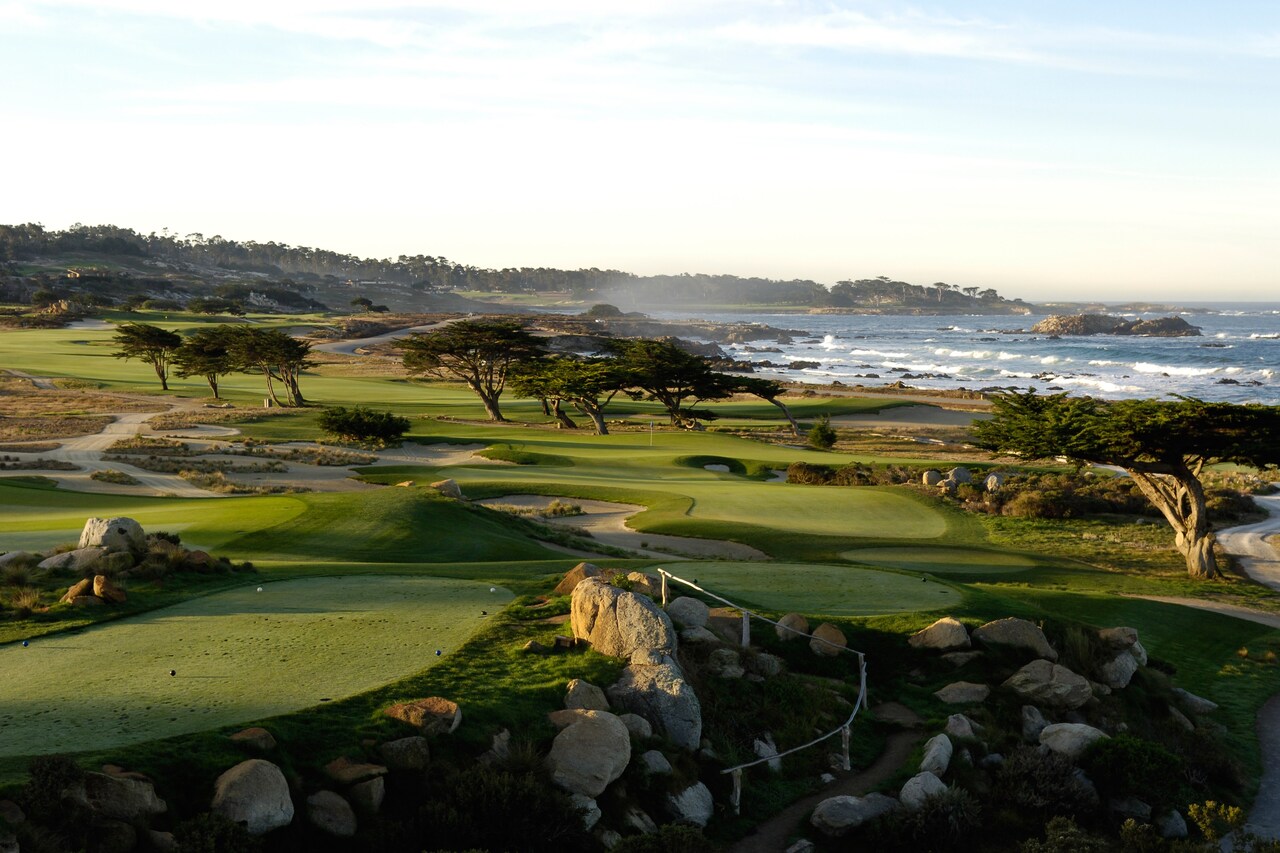 18 | Monterey Peninsula Country Club (Shore), Pebble Beach, Calif. (8.2828)
For 50-some years, the Shore Course at Monterey Peninsula Country Club was a mundane layout not in the same league with its neighbors Cypress Point and Pebble Beach. No longer, since the late Mike Strantz reversed the direction of this seaside layout to weave in between these cypress trees playing out to the Pacific Ocean. MPCC's Shore course is No. 65 on our 100 Greatest ranking, its highest position since the course opened in 1961. –SH
Golf Digest panelist comments:
"Natural rock formations make for amazing locations for tees and greens, playing off this setting to make for truly unique holes with outstanding backdrops to the shots into the greens. While the holes aren't truly on the water, the views play off the Pacific Ocean and the waves crashing in the background.""Visualizing what the course looked like, and then what Strantz changed it to, makes it evident at what a remarkable job of using the terrain this was. Truly a masterpiece in my opinion.""Mike Strantz does a great job using the natural elevation changes creating aesthetically pleasing vistas as well as strategic shots."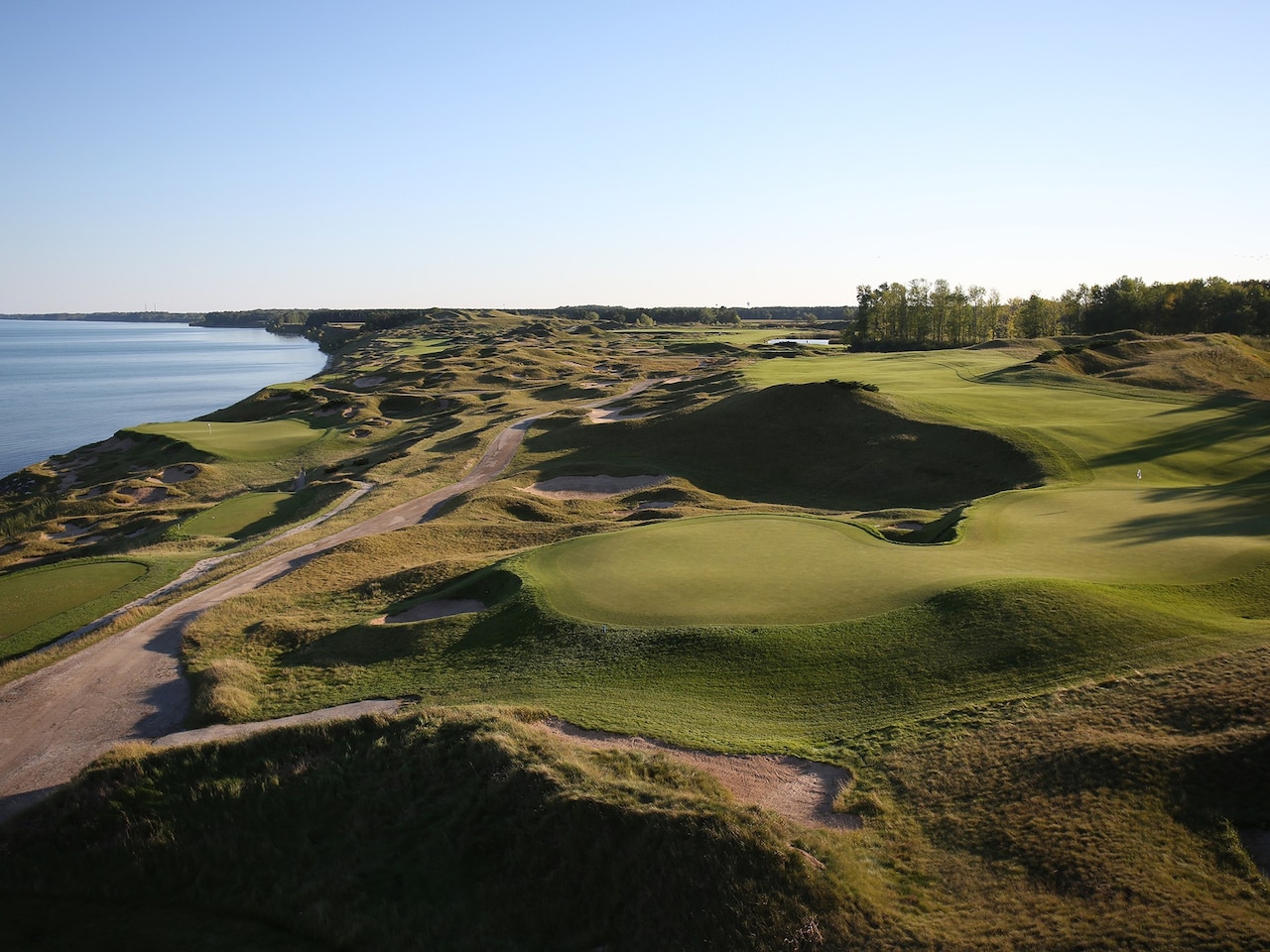 17 | Whistling Straits (Straits Course), Haven, Wisc. (8.2841)
Once a dead-flat army air base, this stretch of terrain along Lake Michigan is now one of the more memorable stretches in modern championship golf, having hosted the 2004, 2010 and 2015 PGA Championships with the 2020 Ryder Cup on the horizon. –SH
Golf Digest panelist comments:
"Scores very high in memorability and aesthetics due to the views of Lake Michigan, dramatic vistas created from the shape of holes, the links-style feel, small catwalk-like paths from tees to greens and the clubhouse as you finish up on 9 and 18 is extremely memorable.""Awe-inspiring views on almost every hole. It's easy to forget you're in Wisconsin — the likeness to an Irish links was extremely well done. I felt like I was back in Ireland playing mix of Old Head, Lahinch and Ballybunion."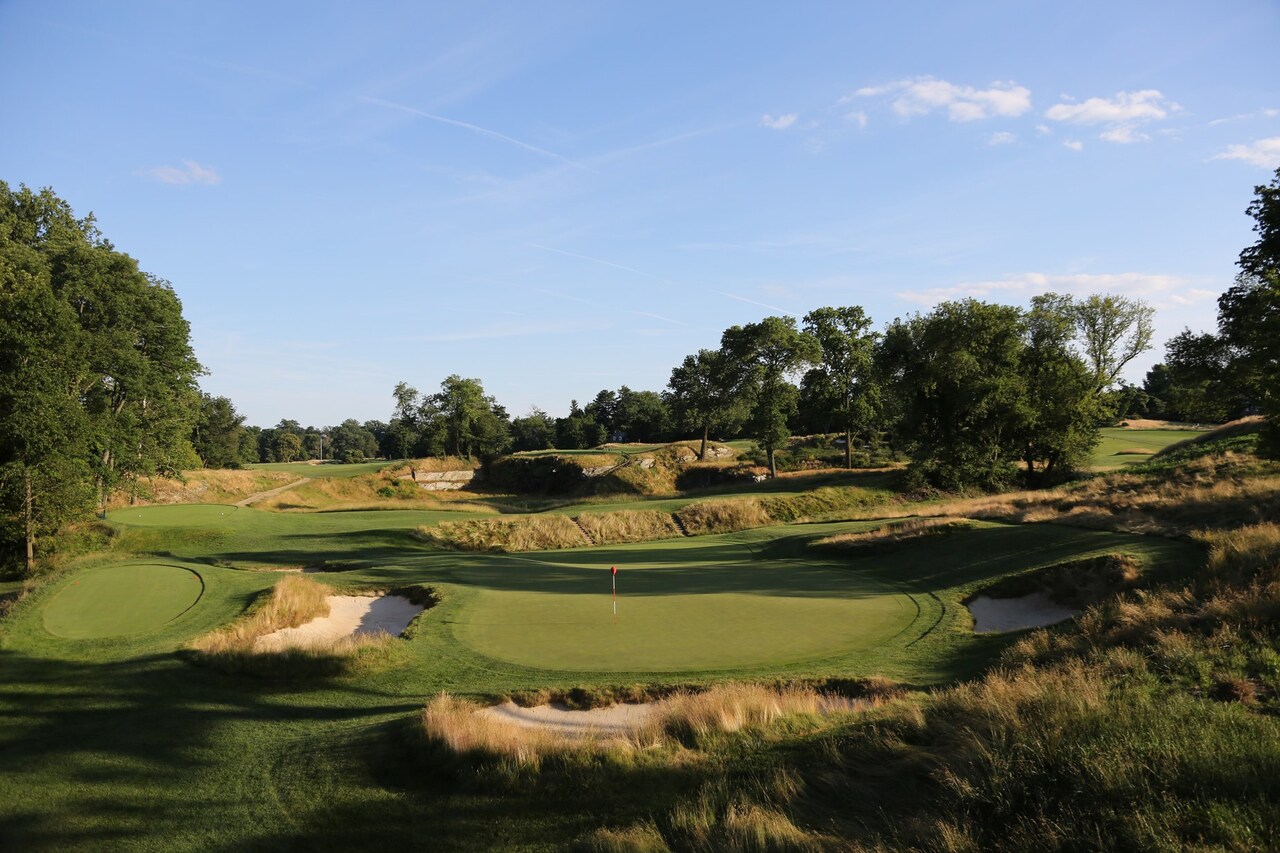 16 | Merion Golf Club (East), Ardmore, Pa. (8.2958)
This strategic architectural marvel that Jack Nicklaus once described as "acre for acre . . . may be the best test of golf in the world," isn't just a top-10 course in Golf Digest's 100 Greatest for its championship pedigree (19 USGA events). But also, its beauty, according to our panelists. –SH
Golf Digest panelist comments:
"On such a small canvas (175 acres), it is a simply a work of art—which the members call it a three-act play due to how different and unique each six-hole stretch is. And it absolutely is a work of art.""The entire course is full of subtleties, ranging from landing areas, preferred angles of approaches, and placement on the greens. A spectacular flow throughout the round.""The natural landforms and green settings on so many holes just create a spectacular setting for golf without any outside aesthetic. And there's that charming interplay between the clubhouse and course that is lost on most modern designs."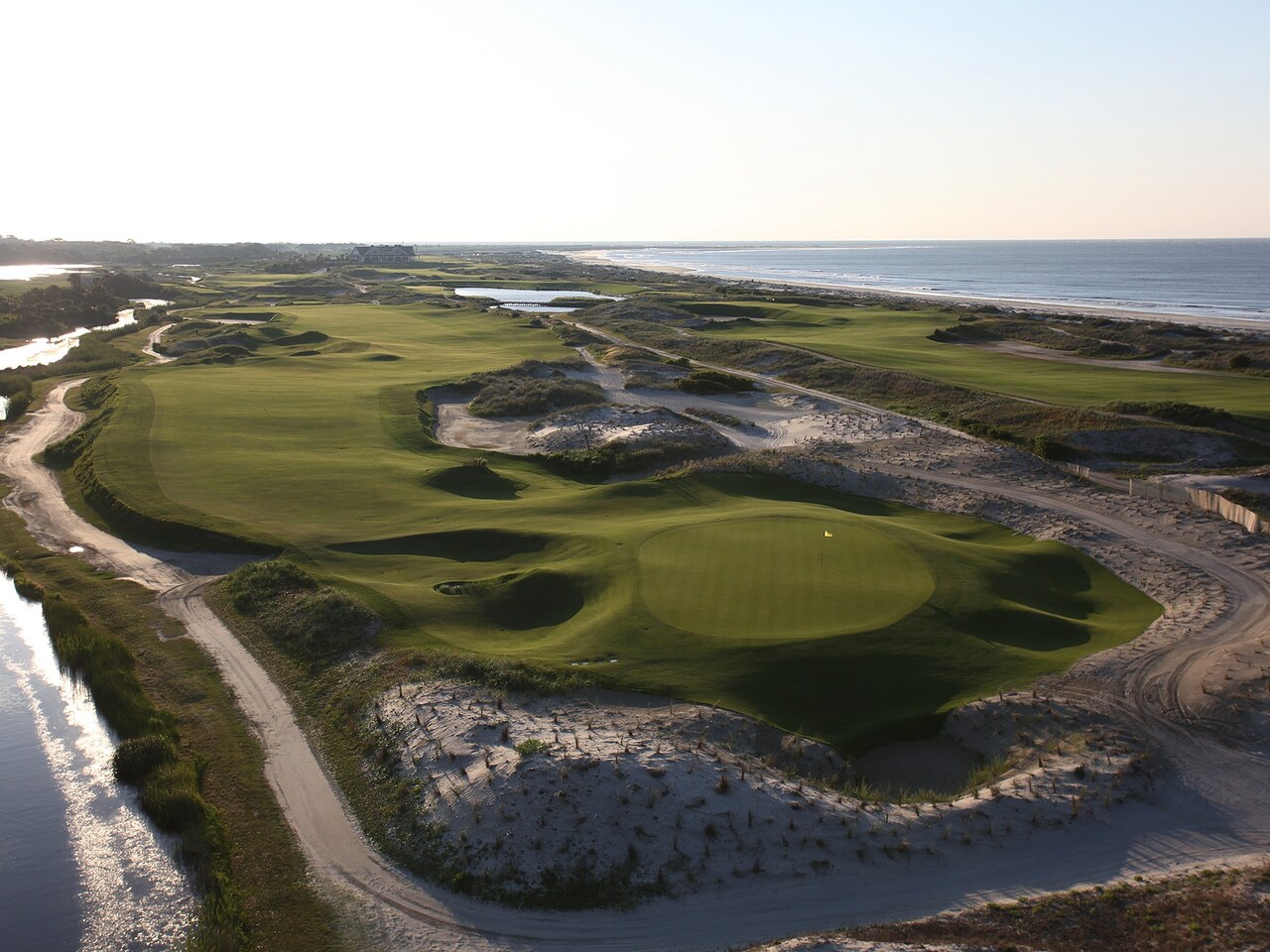 15 | Kiawah Island Golf Resort (The Ocean Course), Kiawah Island, S.C. (8.3010)
Built to host the 1991 Ryder Cup, The Ocean Course has become one of the great settings in golf with its perched fairways and greens extending its Atlantic Ocean vistas. –SH
Golf Digest panelist comments:
"The Ocean Course is 18 holes of picturesque golf on a routing that is simply phenomenal. Of course, if the wind is up and your game is off, you might question how "beautiful" an experience it is — but keep soaking up the views.""Every fairway is slightly raised so that the Atlantic Ocean is in view, allowing the flow of bunkers and waste areas to flow seamlessly.""Perhaps the most difficult, yet enjoyable golf course I have ever played, which is such a fine balance and difficult to achieve. But the Ocean Course has done it."
14 | Gozzer Ranch Golf & Lake Club, Harrison, Idaho (8.3195)
Gorgeous views of Lake Coeur d'Alene to the north and west and the panoramic farm valley to the east are the main reasons Gozzer Ranch earned our Best New award in 2008. The Tom Fazio design was No. 28 on our latest 100 Greatest ranking and No. 1 in Idaho. —Ron Whitten
Golf Digest panelist comments:
"Fazio at his best. The course does an excellent job of bringing in the surrounding scenery (rock walls, Lake Coeur D'Alene, and elevation changes) to enhance the enjoyment of the round.""This was built on a dream site. Some of the skyline greens are the best you will find in all of golf. No. 15 in particular is breathtaking."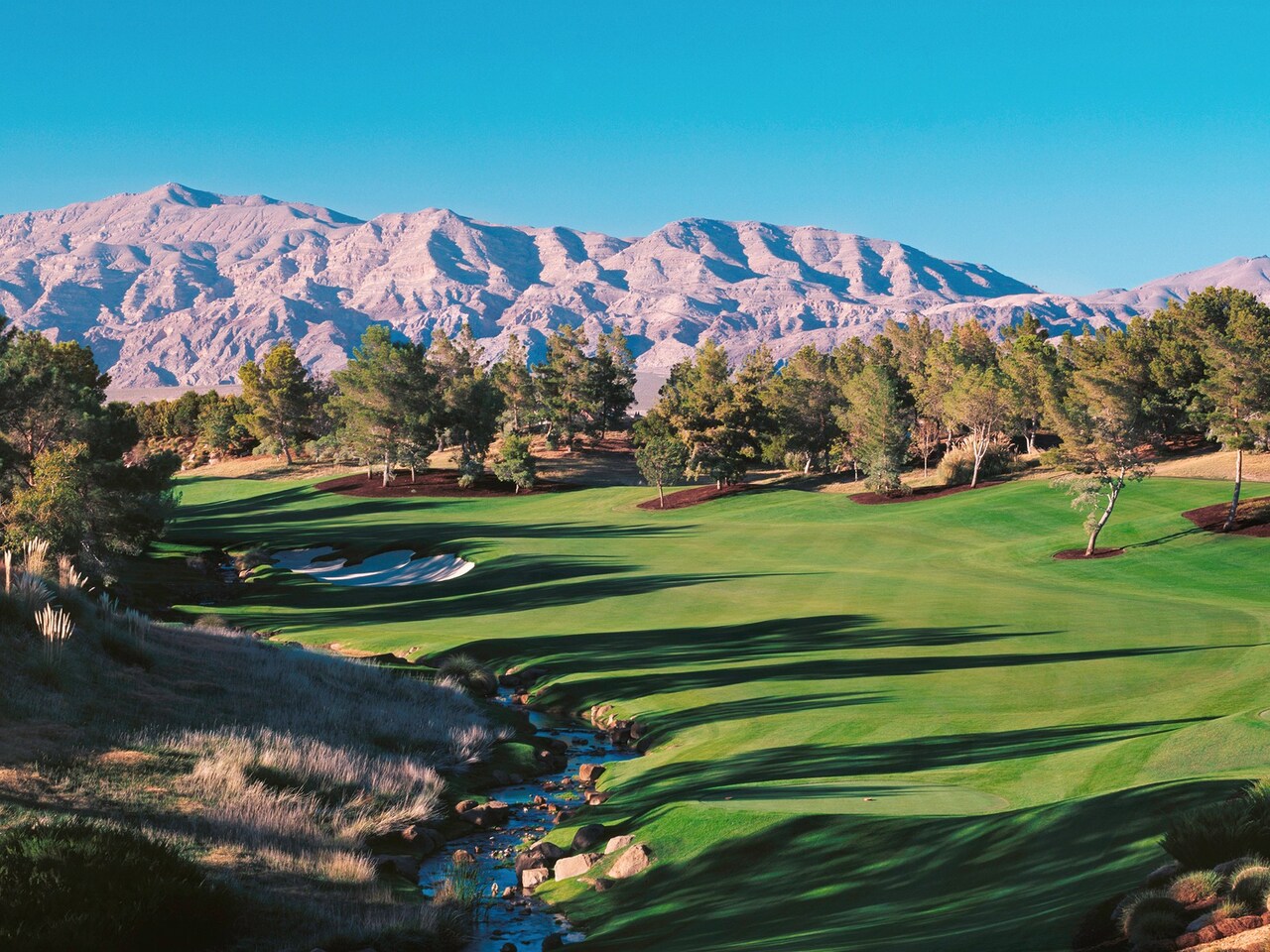 13 | Shadow Creek, North Las Vegas, Nevada (8.3196)
Forty-seven million dollars to build a golf course? Tom Fazio said that budget was necessary at Shadow Creek to perform what he now calls "total site manipulation," creating an environment where none existed, by carving rolling hills and canyons from the flat desert floor north of Las Vegas and pumping in plenty of water. —Ron Whitten
Golf Digest panelist comments:
"Sort of typical of Vegas and the 1990s with lots of waterfalls and over-the-top features. But once you're inside you feel like you're somewhere like in the middle of Georgia, and completely forget that you are 15 minutes from the Las Vegas Strip. There were thousands of trees, plants, etc. imported in to create this wonderful property.""If you were blindfolded and helicoptered onto the golf course you would think you are in the Carolinas. Course is set down into the desert and you can't see the desert from anywhere on the course, just the mountains in the distance. A landscaping and engineering marvel and great golf as well."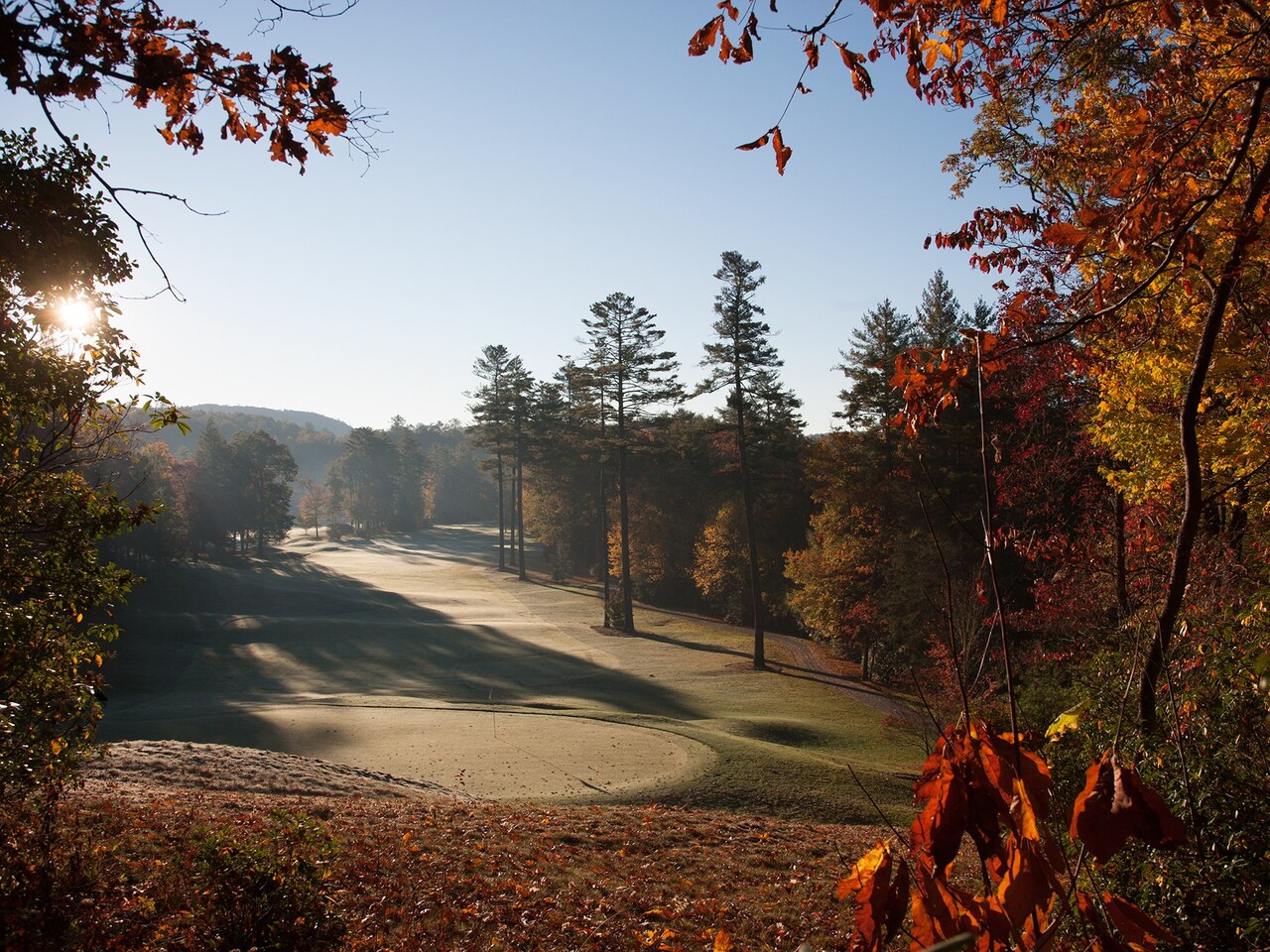 12 | Wade Hampton Golf Club, Cashiers, N.C. (8.3261)

Built during the period when Tom Fazio was still working with the existing landscape rather than ignoring it, Wade Hampton is an exercise in restraint. The fairways flow through a natural valley between flanking mountain peaks. Some holes are guarded by gurgling brooks, but Fazio piped several streams underground to make the course more playable and walkable. —Ron Whitten

Golf Digest panelist comments:"Might be the best mountain course in the United States. Such an impressive use of the land to blend housing with the mountain views — to the point where you don't really notice it's residential. Fazio also did a great job using natural (or semi natural) water features and rocks.""A terrific course whose quality golf holes somehow manage to match the quality of the mountain scenery."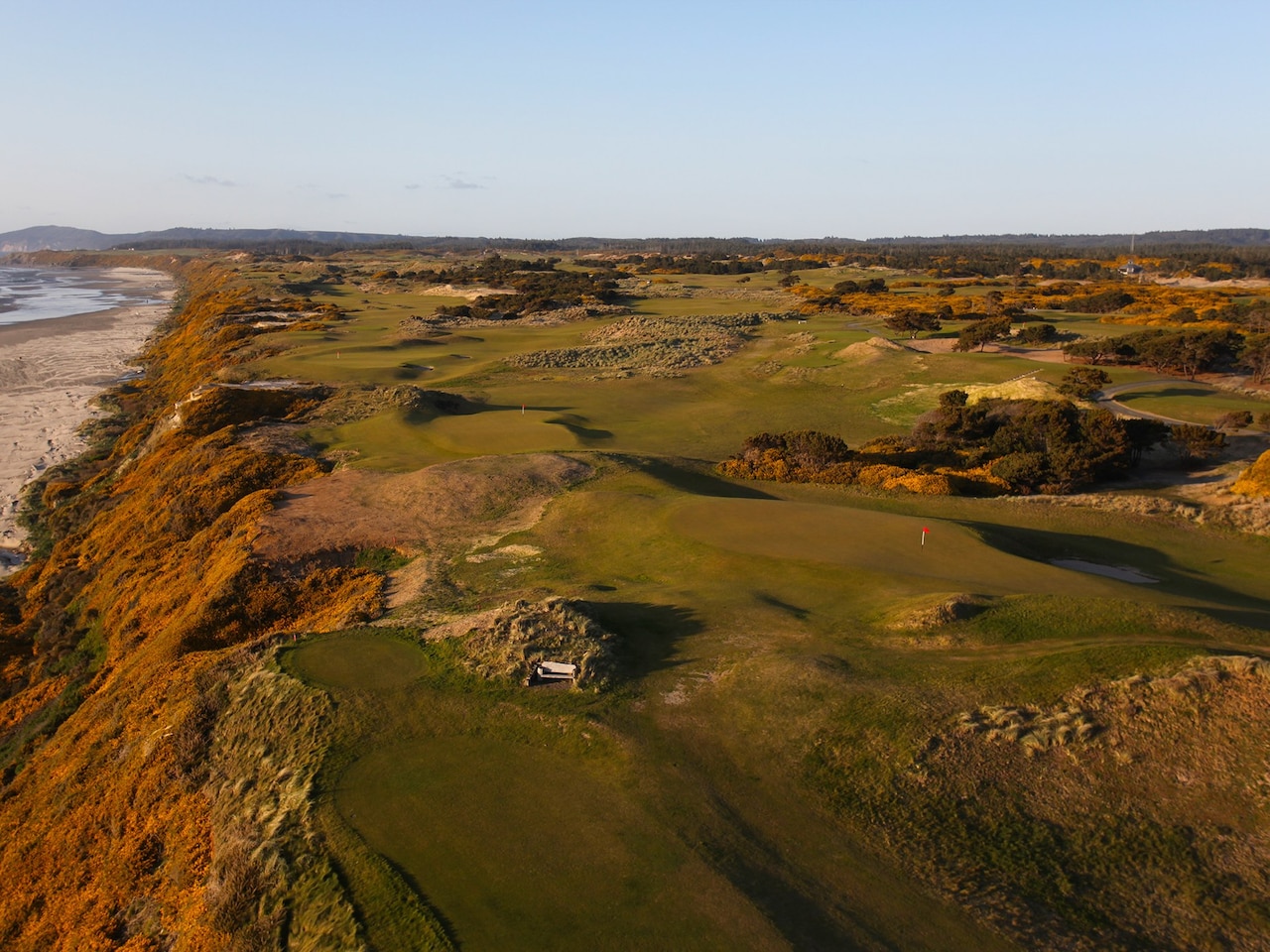 11 | Bandon Dunes, Bandon, Ore. (8.3706)
Bandon Dunes, faithful to the links-golf tenets of his native Scotland, proved so popular that today Keiser has a multiple-course resort at Bandon Dunes that rivals Pinehurst and the Monterey Peninsula. Exceeds them, perhaps. None of that would have happened if David McLay Kidd hadn't produced a great first design. —Ron Whitten
Golf Digest panelist comments:
"Walking up to one of the infinity-view greens, and soaking in the views of the Pacific Ocean, is one of those feelings that stays with you even for years after first experiencing it. And the course is memorable, too, and scores highly in each category. Bandon gives you the desire to come back again.""Golf as it was meant to be. Certainly as close to Scottish golf as I've seen in the U.S."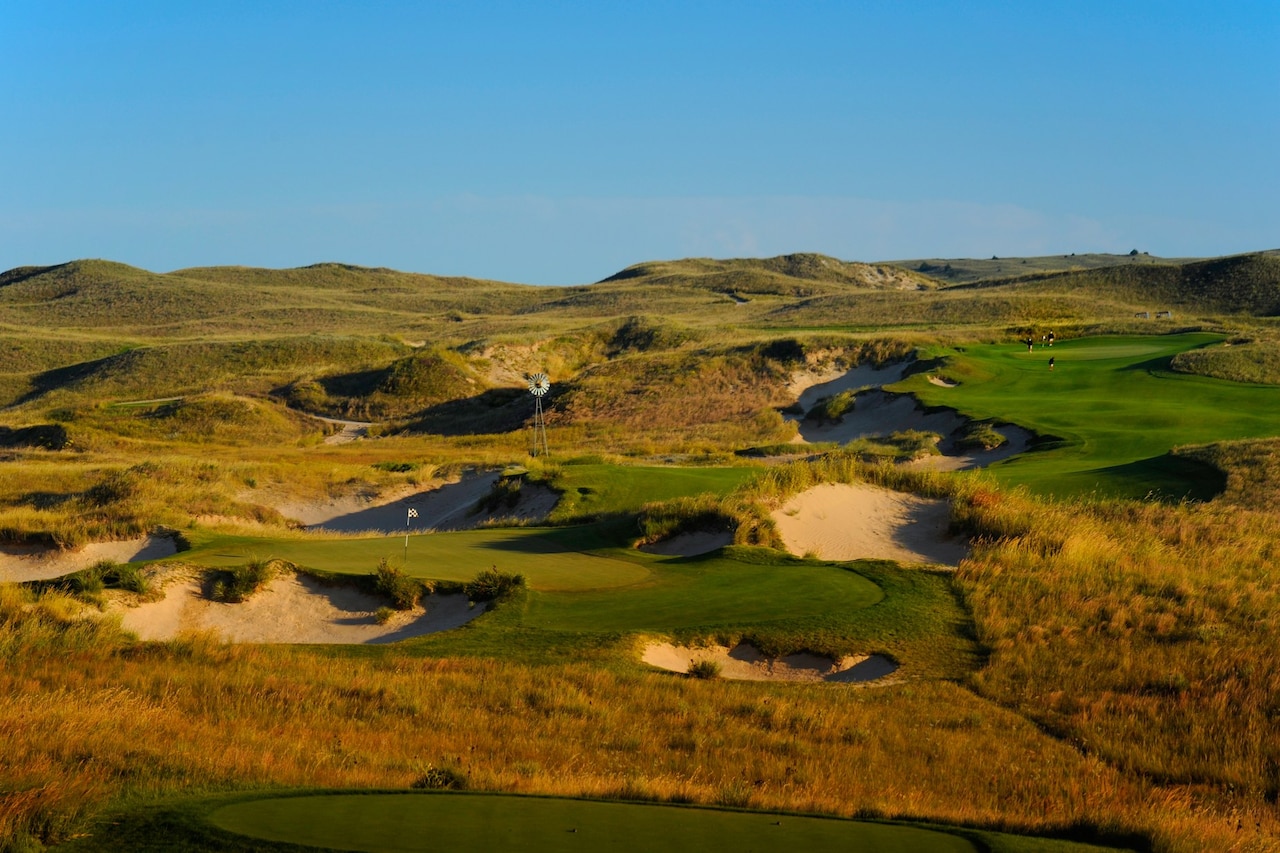 10 | Sand Hills, Mullen, Neb. (8.3801)
The golf course wasn't so much designed as discovered. Bill Coore and Ben Crenshaw trudged back and forth over a thousand acres of rolling sand hills in central Nebraska, flagging out naturally-occurring fairways and greens. By moving just 4,000 cubic yards of earth, and letting the winds shape (and reshape) the bunkers, the duo created what is undoubtedly the most natural golf course in America. —Ron Whitten
Golf Digest panelist comments:
"I don't even feel like I am on earth at Sand Hills. I love the desolate feeling the course gives you and constant natural beauty featured. When I think of my ideal course surroundings and ambiance, I think Sand Hills.""The naturalness and serenity given back to the golfer is unlike any other course I've played. This was like visiting the Sistine Chapel of Golf. And in Nebraska? More people need to know how good Sand Hills is."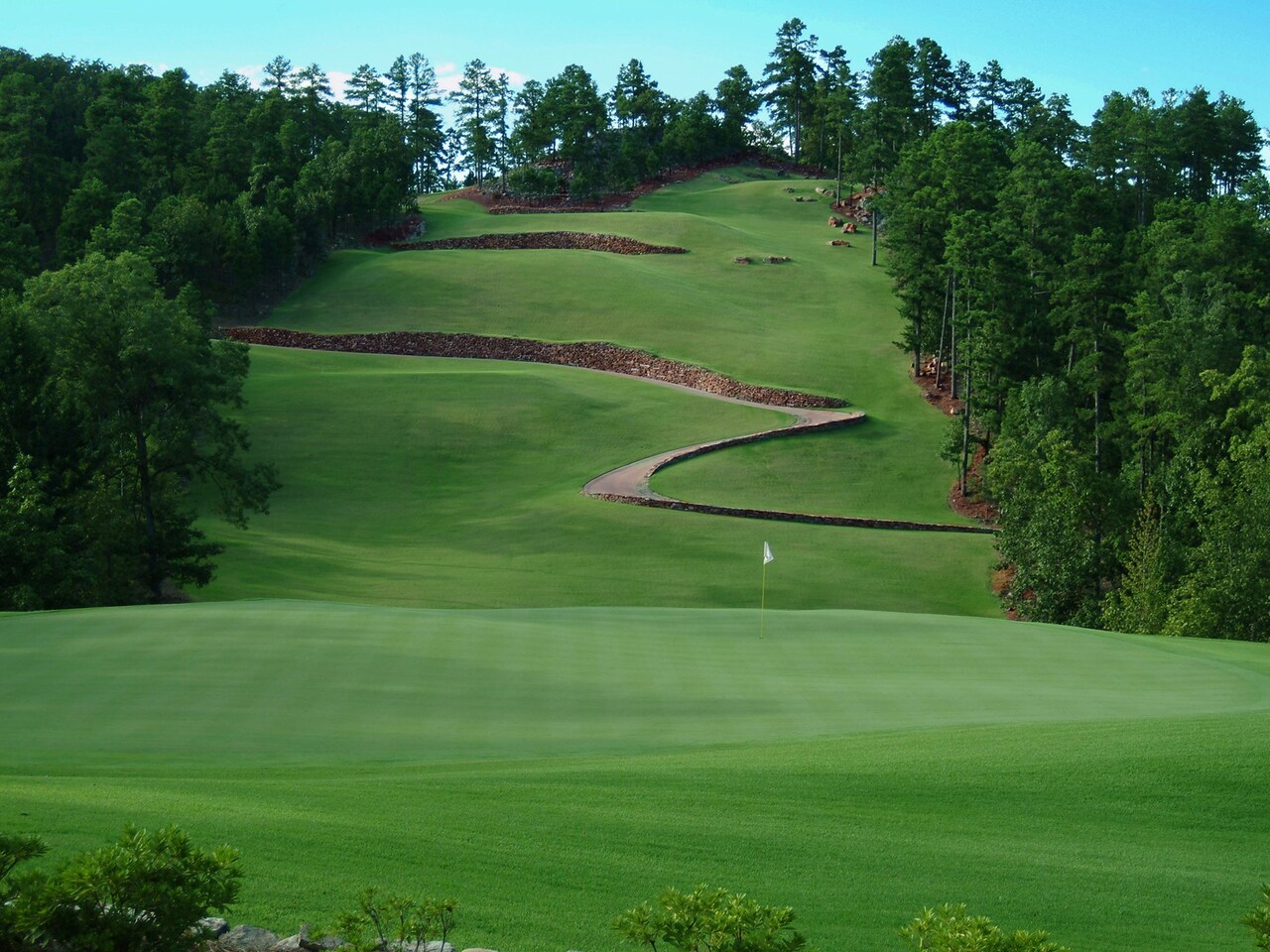 9 | The Alotian Club, Roland, Ark. (8.3888)
The Alotian Club gives us a hint of what Augusta National would have looked like had Bobby Jones established his dream course on even hillier terrain than Augusta. The Alotian Club is No. 27 on our latest America's 100 Greatest. –Ron Whitten
Golf Digest panelist comments:
"The views and elevation changes are breathtaking. The par-3 sixth hole, which plays about 205 yards with an 80-foot elevation drop, was one of the more memorable holes you'll play, and actually reminiscent of the type of landforms you'd see at Augusta.""Beautiful Tom Fazio design cut out through the hills just west of Little Rock. Many vistas of Lake Maumelle from different parts of the course. And this magnificent clubhouse sits on top of the hill in the center of the course."
&nbsp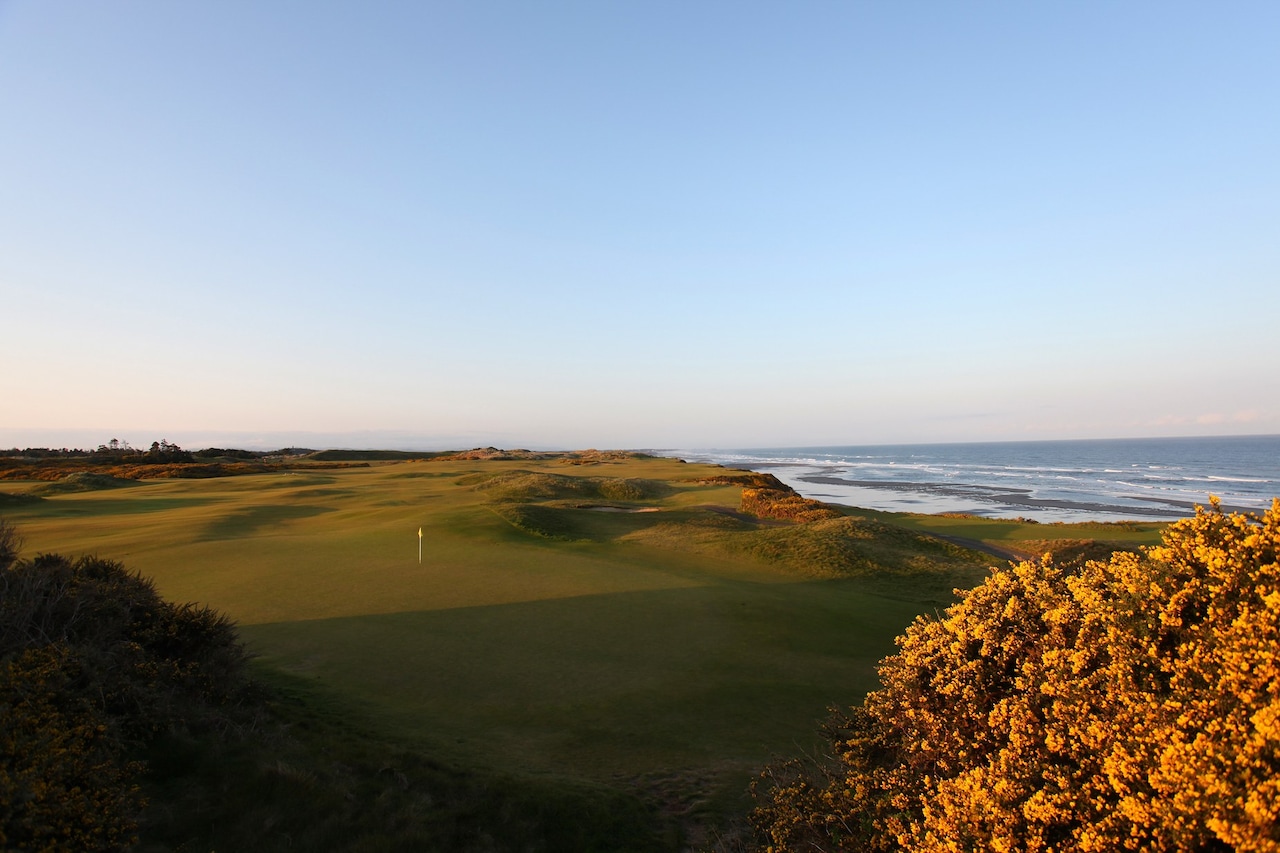 8 | Pacific Dunes, Bandon, Ore. (8.5271)
This was the second course built at Bandon Dunes Resort and remains the highest-ranked course. To best utilize ocean frontage, Tom Doak came up with an unorthodox routing that includes four par 3s on the back nine. Holes seem to emerge from the landscape rather than being superimposed onto it, with rolling greens and rumpled fairways framed by rugged sand dunes and marvelously grotesque bunkers. The secret is Doak moved a lot of earth to make it look like he moved very little. –Ron Whitten
Golf Digest panelist comments:
"Walking up to one of the infinity-view greens, and soaking in the views of the Pacific Ocean, is one of those feelings that stays with you even for years after first experiencing it. And the course is memorable, too, and scores highly in each category. Bandon gives you the desire to come back again.""Nothing has been forced in the design here—Tom Doak has used the natural beauty to great advantage in his routing. You don't feel like he used a bulldozer at all here in this routing."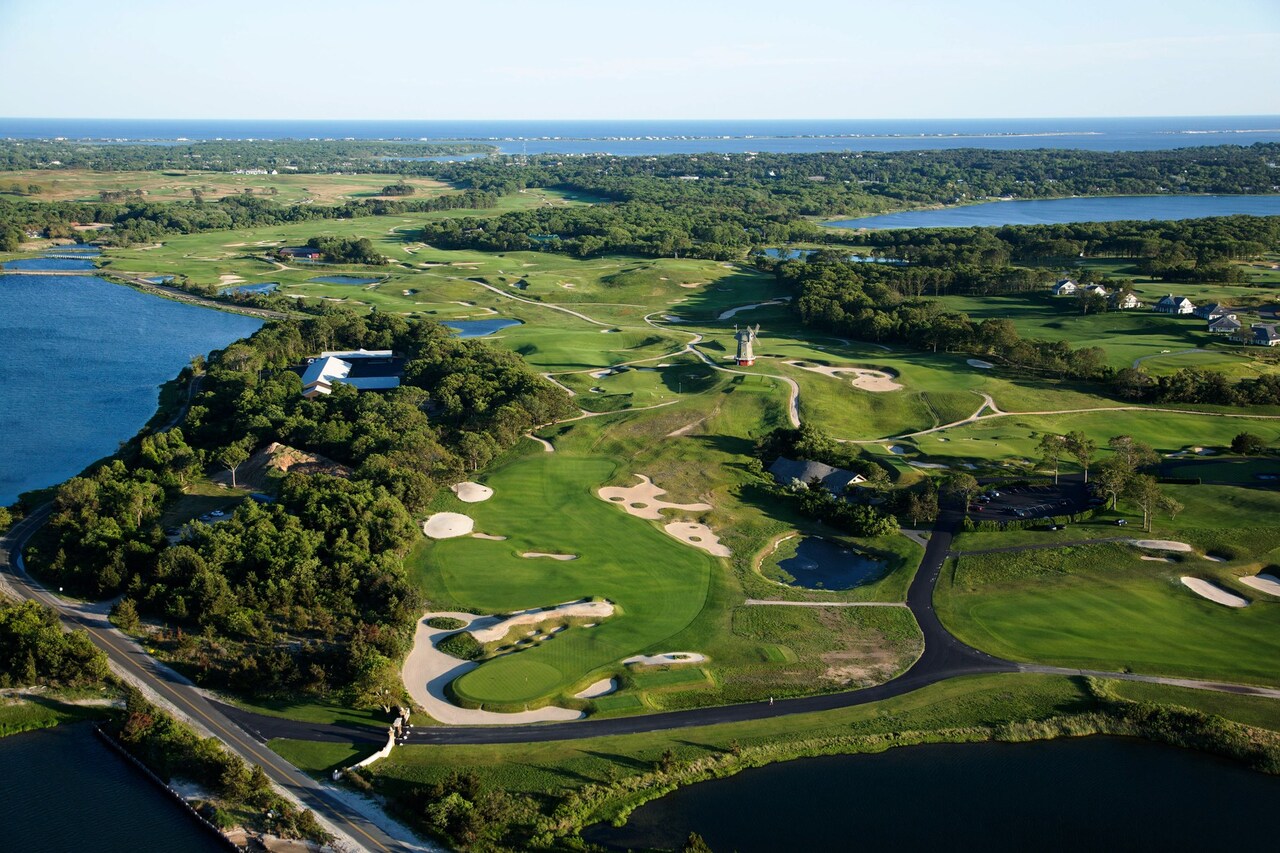 7 | National Golf Links of America, Southampton, N.Y. (8.5669)
Considered by most golf-course architecture aficionados as the Gold Standard of American architecture, National Golf Links is a collection of fabulous template holes done by C.B. MacDonald and Seth Raynor. The No. 8 spot on our past two rankings of America's 100 Greatest is the highest it has risen on our list. –SH
Golf Digest panelist comments:
"A true masterpiece for its importance in the place of U.S. golf course architecture. But not to be undersold is NGLA's spectacular beauty and scenery.""One of the very best seaside courses anywhere … If there is a better place on the planet, I haven't found it yet!"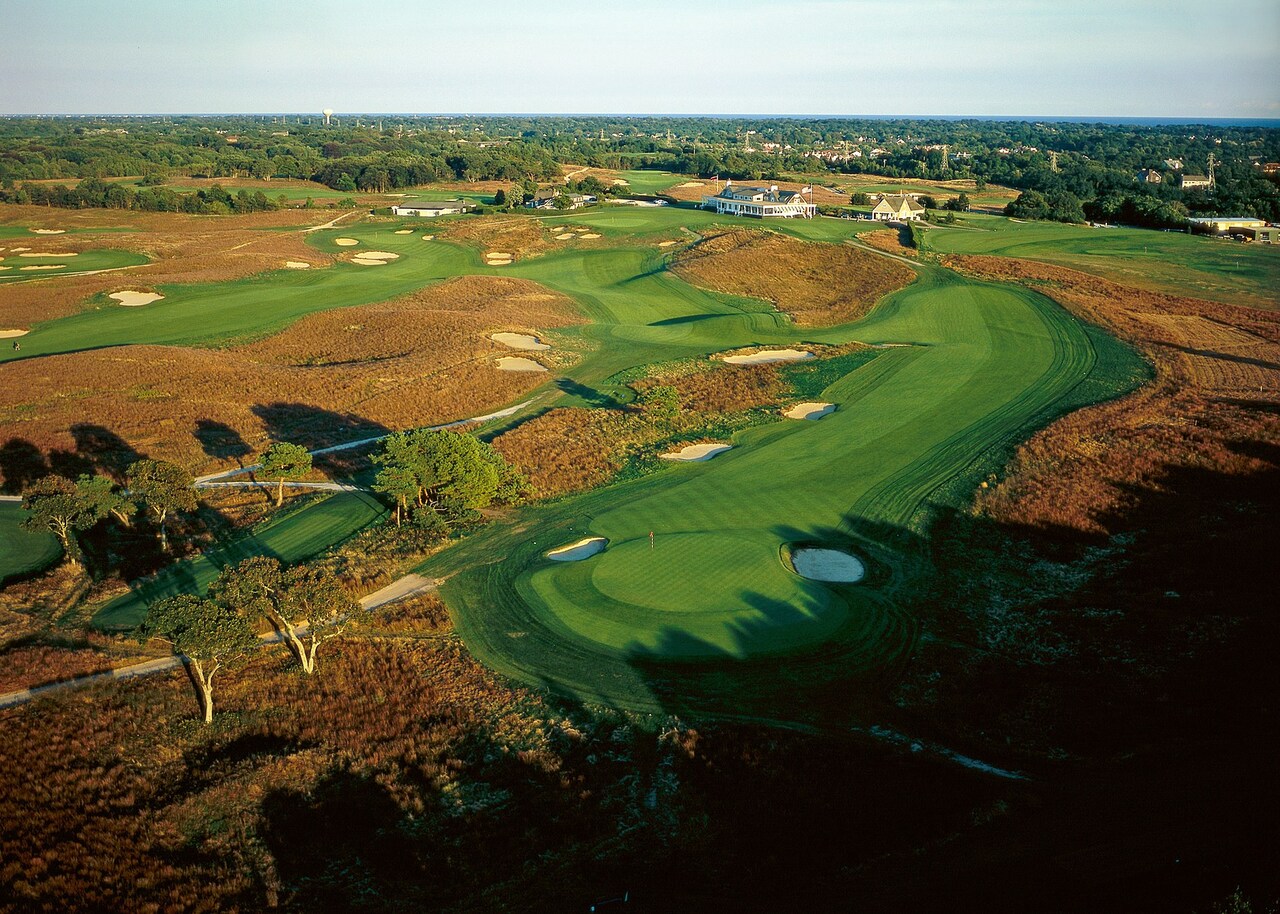 6 | Shinnecock Hills Golf Club, Southampton, N.Y. (8.6478)
Across the street from National Golf Links is yet another cathedral of American golf, considered by many to be the earliest links course in America. Shinnecock, with its rich history, will be on the national stage once again when it hosts the 2018 U.S. 
Open.–SH
Golf Digest panelist comments:
"Natural setting makes memorability, aesthetics, and ambience off the chart — outdone only by the choices and difficulty presented by so many shots.""The view looking down the first tee is one of the very best in golf."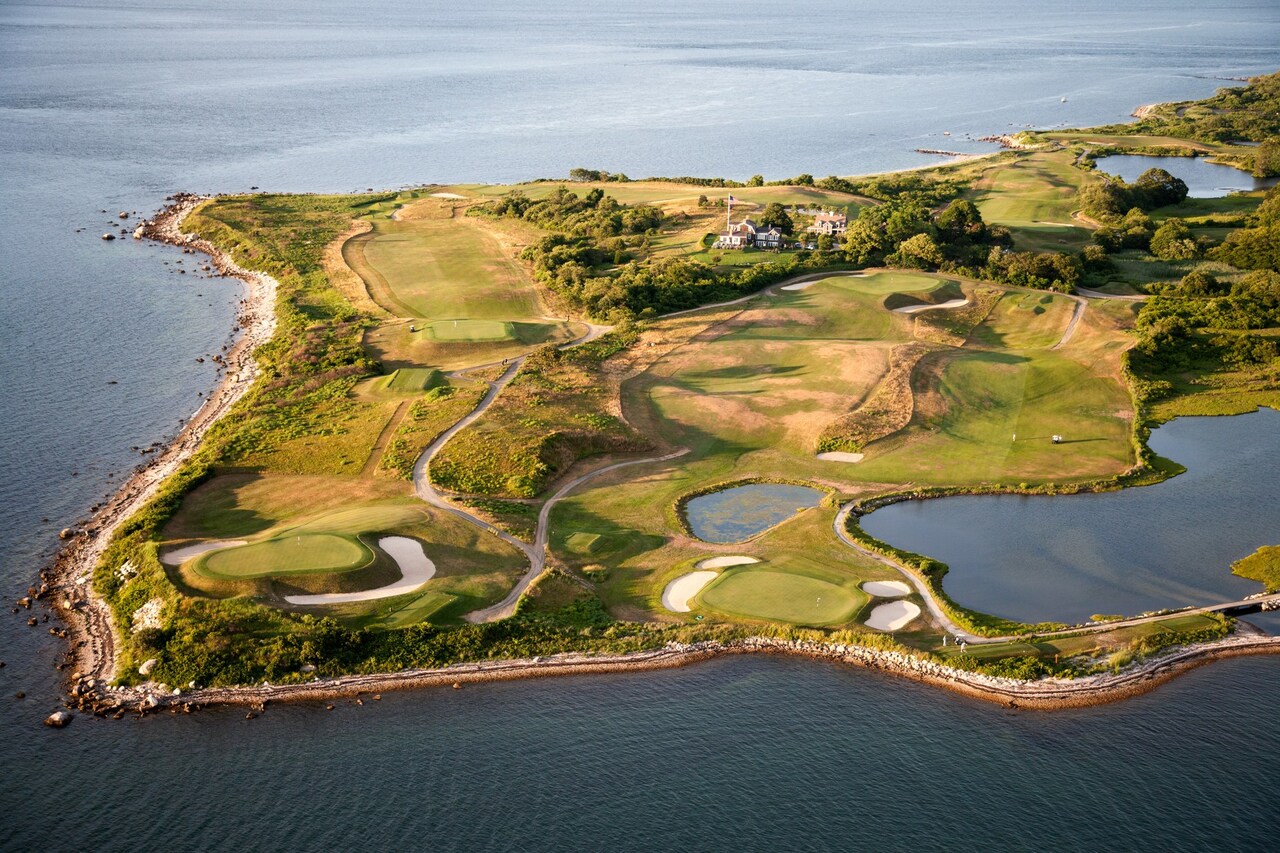 5 | Fishers Island Club, Fishers Island, N.Y. (8.8164
Probably the consummate design of architect Seth Raynor, who died in early 1926, before the course had opened. His steeply-banked bunkers and geometric greens harmonize perfectly with the linear panoramas of the Atlantic Ocean and Long Island Sound. The quality of the holes is also superb, with all of Raynor's usual suspects, including not one but two Redan greens, one on a par 4. —Ron Whitten
Golf Digest panelist comments:
"There may be no more spectacular setting for a golf course in the United States. Water views with an idyllic New England shoreline framing it: This defines exquisite in golf. Seth Raynor was a genius; this is truly one of a kind.""It is my ideal in Aesthetics due to the natural use of the peninsulas and surrounding Long Island Sound, which enhances many holes at Fishers Island. The entire golf course has a natural flow to it, with each hole standing out on its own, as well, for its unique characteristics.""This course has every bit of the aesthetic beauty within the course, not to mention outside the course. The lines of the fairway horizons contrast beautifully with the ocean lines in the background. On some holes, the cavernous bunkers and steep slopes down to the beach provide a depth that contrasts with the elevated greens and flat approaches. The use of native grasses to separate the golf course from cottages blends in beautifully with the surroundings, and some of the archaic trees that adorn the property put out a soothing white noise with the leaves rustling in the ocean breeze. The ocean enters the course and is a fantastic internal design feature on many holes, most notably the 18th."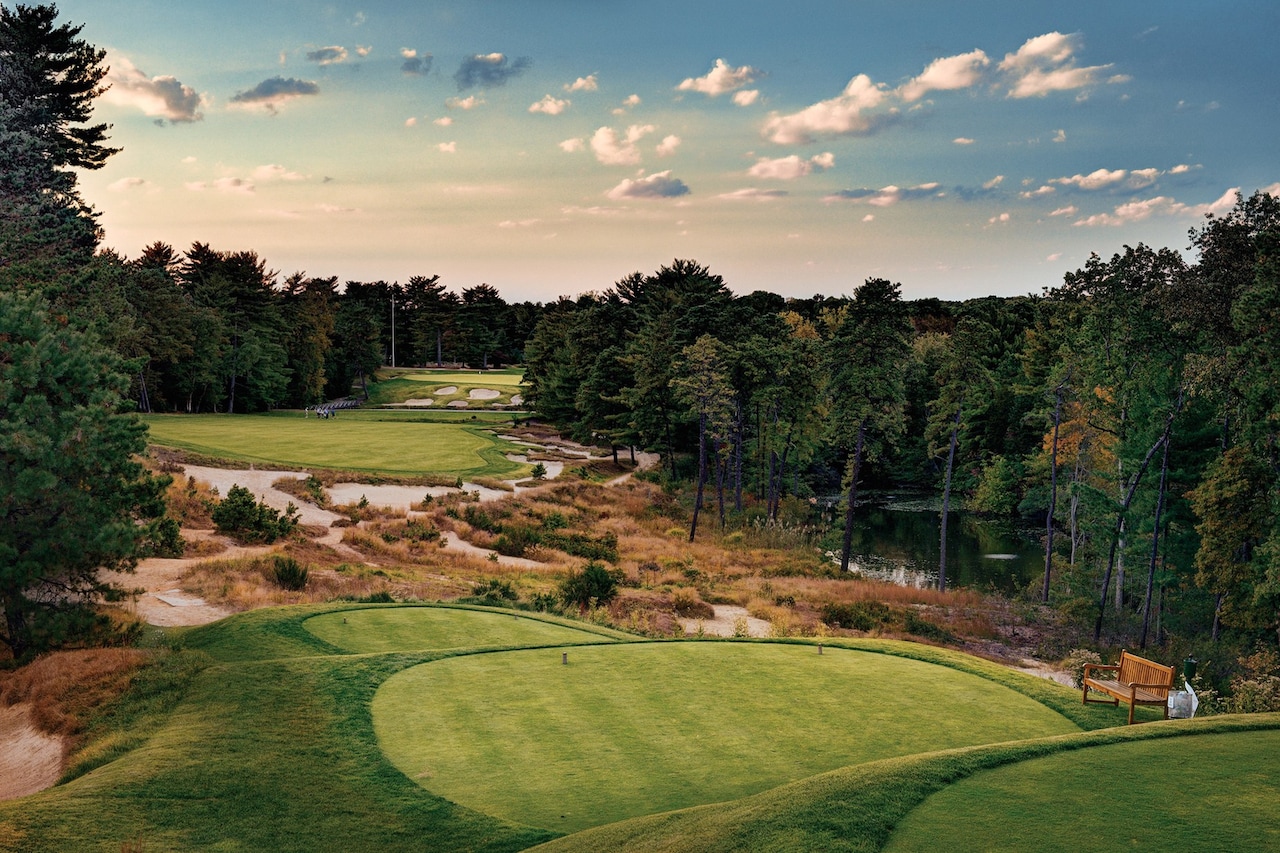 4 | Pine Valley Golf Club, Pine Valley, N.J. (8.9049)
No. 1 in our current America's 100 Greatest, in addition to 2013-2014, 2003 through 2008 and 1985 through 2000, Pine Valley is on every avid golfer's bucket list. Some recent tree removal by Tom Fazio's team have revealed gorgeous views of the sandy landscape upon which the course is routed. –SH
Golf Digest panelist comments:
"Every hole is a postcard for the avid golfer. Pine Valley's epic combination of concept, presentation and vibe of the club overwhelm and enchant.""Pine Valley pulls off the impossible, blending facets and designs features of the heroic, penal, strategic schools of design into one cohesive whole.""The grandness of the place is what first stuck out — the size of the property and the amount of acreage on every hole was simply mind blowing. Add in the absolutely relentless bunkering, the unforgiving misses both off the fairways and on the greensides and the total distance and accuracy required to navigate the course — and you have one demanding golf course that has you thinking on every single shot, regardless of distance."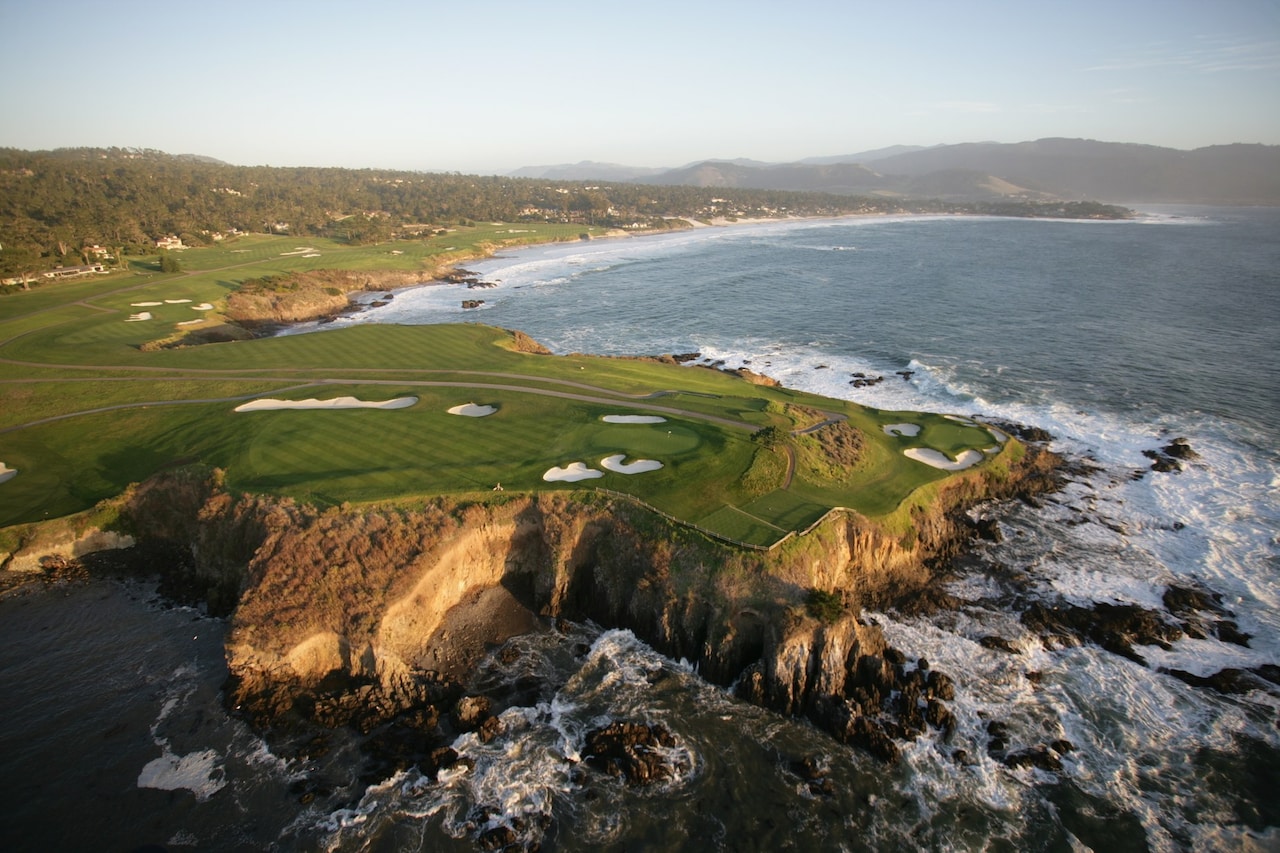 3 | Pebble Beach Golf Links, Pebble Beach, Calif. (9.0361)
Site of next year's U.S. Amateur and the 2019 U.S. Open, Pebble Beach will again test golf's best. As our Ron Whitten has written, Pebble Beach is "not just the greatest meeting of land and sea in American golf, but the most extensive one, too." Nine holes are perched immediately above the crashing Pacific surf — the fourth through 10th, plus the 17th and 18th. And Pebble's sixth through eighth just might be golf's true Amen Corner, with a few Hail Marys thrown in over a ocean cove on eight from atop a 75-foot-high bluff. –SH
Golf Digest panelist comments:
"Especially your first time playing, it's tough to stay focused on your game as you marvel at this amazing meeting of land and sea.""Pebble Beach is blessed with the most majestic piece of land in America, and the design uses that topography very well in creating an unforgettable experience. A day at Pebble Beach, no matter your score, will always be a good day."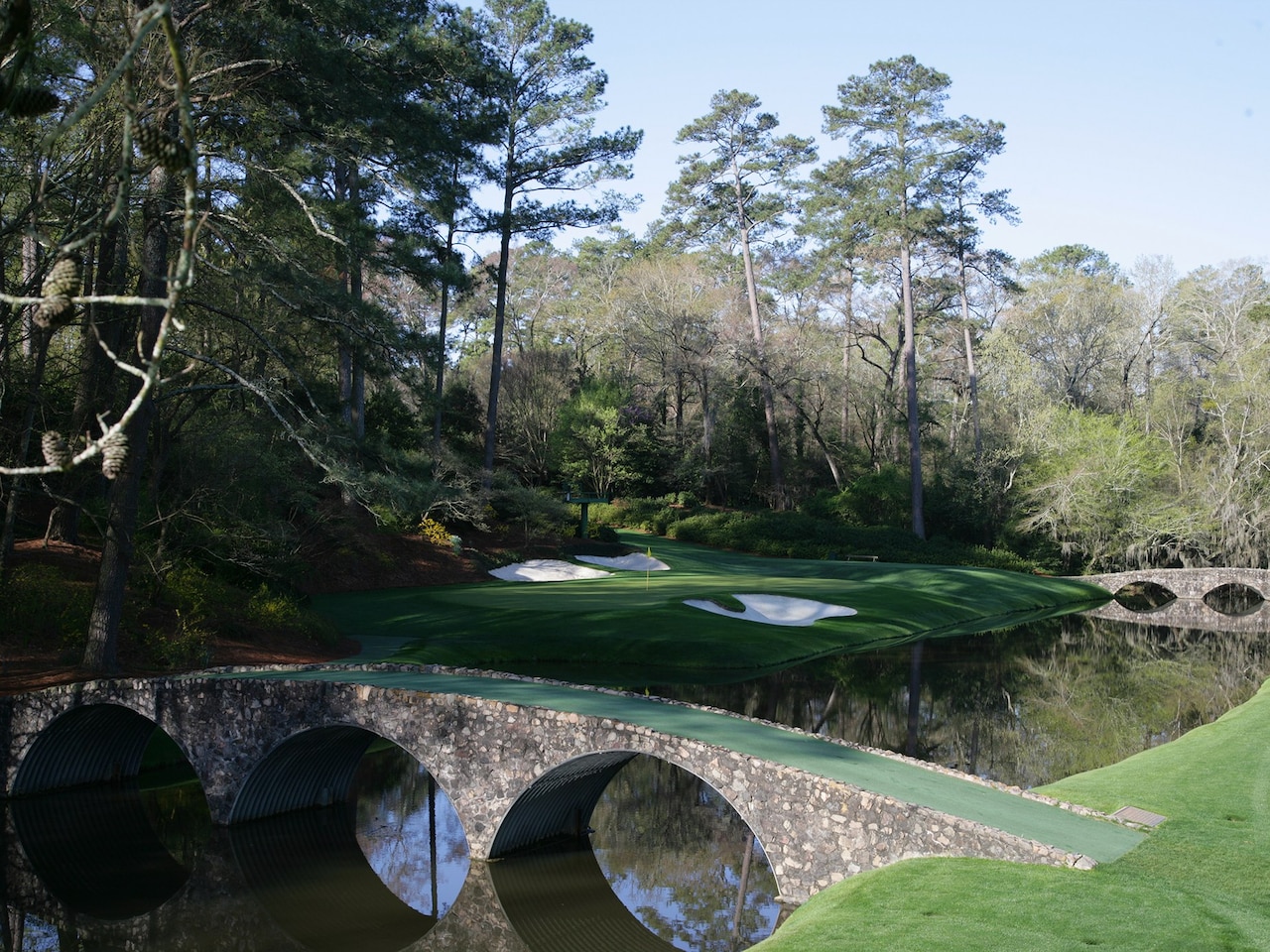 2 | Augusta (Ga.) National Golf Club, (9.0361)
Holding the No. 1 spot in our 100 Greatest rankings in our previous list, and from 2009 through 2012, Augusta National is the envy of all golf fans every spring as we tune into the Masters. Our course panelists are impressed, too, by their experiences playing this Alister MacKenzie and Bobby Jones masterpiece that continues to be improved upon. –SH
Golf Digest panelist comments:
"One of the greatest days one can spend in golf is the day you get to play ANGC, especially the first time. The routing solutions, to the elevation changes, the brilliance of Amen Corner, visiting all ends of the property, the many directions of the holes, the risks and rewards, the total brilliance of the green complexes — wow.""Even if the Masters wasn't played here every year, you'd still have one of the most memorable layouts with unrivaled topography and aesthetics. The traditional deep green fairways with minimal rough provides a feeling of uniformity throughout the grounds that has been copied at other courses. This is the best sanctuary in golf."
1 | Cypress Point Golf Club, Pebble Beach, Calif. (9.2636)

Glamorous Cypress Point, Alister Mackenzie's masterpiece woven through cypress, sand dunes and jagged coastline, wasn't always the darling of America's 100 Greatest. Golf Digest demoted it to the Fifth Ten back in the early 1970s, saying, "It's not surprising that good players might find Cypress Point wanting: it has several easy holes and a weak finisher." Our panel has since changed its collective opinion. It is No. 3 on our current 100 Greatest—but earned the top spot in Aesthetics from our course-ranking panelists in our most recent rankings. —Ron Whitten

Golf Digest panelist comments:"Cypress Point encompasses one of the most spectacular pieces of property one can imagine. The beauty lies within and outside the golf course boundaries, and you may have a few deer grazing to add to nature's gift. The variety is most amazing: You have some holes that are dune type golf, then you are in the woods for mountain golf, and of course you finish up with the famous seaside stretch for some of the best holes in the world.""The experience of walking these fairways left me with a feeling I've never had leaving a golf course. Coming from somebody who plays around 200 rounds of golf every year around the country and world… That is a very hard thing to accomplish."


By Stephen Hennessey

This article originally appeared on GolfDigest.com.
5% Discount
No prize
Next time
Almost!
10% Discount
Month Membership
No Prize
No luck today
Almost!
15% Discount
No prize
Unlucky
FEELING LUCKY? Spin to Win!
Spin the Mystery Wheel to Unlock Golf Discounts, Win FREE Merchandise & Even Win a One Month FREE Clubhouse Membership
One Time Use per Customer
Must Enter Email to Spin
Coupons Not Valid in Combination with Any Other Discounts