Tiger Woods' car crash was caused by excessive speed, but there may be more to the story that we may never know … TMZ has learned.

The L.A. County Sheriff's Dept. will release the findings of their investigation Wednesday morning.

Sources with direct knowledge tell TMZ … Tiger was speeding when he lost control of his SUV and we're told the Sheriff is hanging the cause of the accident squarely on speed.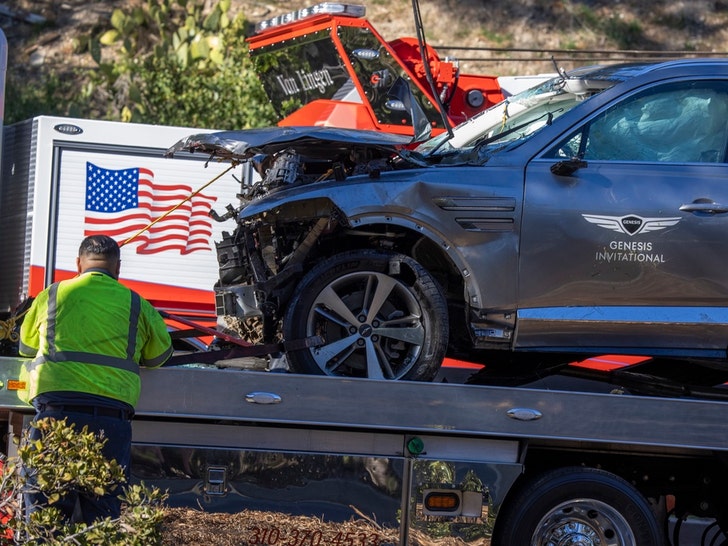 We're told the SUV's black box shows Tiger actually accelerated at the time of the crash. We're also told that just as Tiger lost control the SUV actually gained speed.

There's more … law enforcement sources tell us, the Sheriff's Dept. did not get a warrant to check Tiger's cell phone to determine if he was on a call or texting at the time of the crash. Our sources say the Dept. felt it did not have probable cause to get a warrant for cell phone records, although that is often done in accident investigations.

Our sources say Tiger hit his head 3 to 4 times on something hard in the cabin.

As we previously reported, the Sheriff had said there was no evidence Tiger was under the influence of drugs or alcohol, although authorities never tried to get a warrant to draw blood. They say they did not have the necessary probable cause.

We're told there will be no charges filed or citations issued against Tiger.

As you know by now, Tiger was on his way to an L.A. golf course when he crashed his Genesis GV80 SUV down the side of a hill in Rancho Palos Verdes, Calif.

Tiger, who told first responders he had no recollection of the accident … suffered major injuries to his right leg, and underwent surgery to repair the damage.

Tiger is out of the hospital and is back in Florida where he's recovering.

A DEVELOPING STORY…

6:50 AM PT — Law enforcement sources tell TMZ … Tiger was driving 83 MPH in a 45 mph zone at the time of the crash. They say speed was the sole cause of the crash. We're told Tiger waived his right of privacy and authorized the release of the accident report to the public.

9:17 AM PT — L.A. County Sheriff Alex Villanueva will present the official findings of the Tiger Woods crash during a news conference at 10 AM PT.

Villanueva says he will address "the casual factors and the collision report."

10:06 AM PT — Tiger Woods was doing 75 MPH when he smashed into a tree the time of his accident, according to Sheriff Alex Villanueva … who says the official cause of the crash was speed and inability to navigate the curvy road.
Villanueva says Woods had been driving at speeds between 82 and 87 MPH leading up to the crash — more than 40 MPH over the 45 MPH speed limit — clearly an unsafe speed for the curvy area where Tiger was driving on Feb. 23.
Captain Jim Powers noted there was no evidence Tiger tried to brake before the collision — but investigators now believe Tiger inadvertently stepped on the gas INSTEAD OF THE BRAKE when he realized he was losing control, based on info taken from the vehicle's data recorder.

"When you panic … your initial thought is to hit the brake. It is believed he may have done that but hit the accelerator instead of the brake."

Officials also note Woods showed no signs of impairment — and no evidence of prescription medication, illegal drugs or alcohol was found at the crash scene. Tiger also told investigators he did not drink or take meds before getting behind the wheel.

Officials also say there is NO EVIDENCE Tiger was a distracted driver — specifically, they do not believe he was texting on his cell phone during the crash.

For his part, officials say Tiger told investigators he has no recollection of the collision … "So he's not even aware of the speed until it was presented in this case."
When asked why Tiger wasn't cited for speeding, Captain Powers explained … since no police officer personally witnessed the speeding, it likely would have been thrown out in court. Instead, they decided it wasn't worth the trouble.

10:48 AM PT — TMZ asked Captain Powers why Woods wasn't guilty of reckless driving, he told us another act — like dangerously switching lanes — needs to happen in order for reckless driving to be on the table.

However, the statute for reckless driving reads, "A person who drives a vehicle upon a highway in willful or wanton disregard for the safety of persons or property is guilty of reckless driving." You'd think Woods traveling 40 MPH over the speed limit would almost certainly constitute a disregard for safety.

11:31 AM PT — Tiger Woods just spoke out about the crash — shouting out the first responders who treated him … and thanking the fans for their support.

"In the last few days, I received word from the Los Angeles County Sheriff's Department that their investigation regarding my traffic accident back on February 23rd in Los Angeles has been completed and closed."

"I am so grateful to both the good samaritans who came to assist me and called 911. I am also thankful to the LASD deputies and LA Firefighter/Paramedics, especially LA Sheriffs Deputy Carlos Gonzalez and LAFD Engine Co. #106 Fire Paramedics Smith and Gimenez, for helping me so expertly at the scene and getting me to safely to the hospital."

"I will continue to focus on my recovery and family, and thank everyone for the overwhelming support and encouragement I received throughout this very difficult time."


This article originally appeared on TMZ