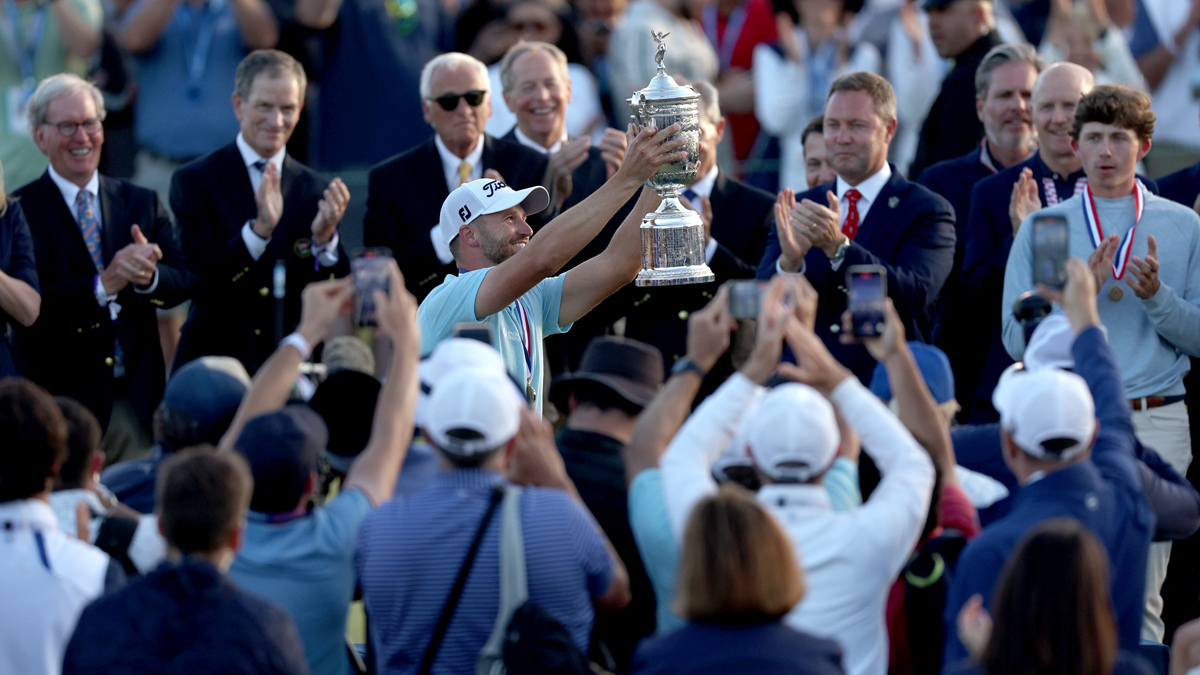 What a wild week at Los Angeles Country Club as Wyndham Clark won the 123rd U.S. Open for his first major title and hot takes littered the landscape until the very end. Let's get right to my TOP 7 takeaways from it all.
1. It had undoubtedly been a breakthrough campaign for Clark
He won the Wells Fargo Championship and has established himself as a high-level talent, even before this week.
That's great, but it usually takes a few spins around a major leaderboard before a player is ready to win one, yet Clark hadn't finished better than T-75 in six previous starts. I interviewed him after each of the first three rounds for the U.S. Open Radio broadcast, and what struck me each time was a confidence that bordered on nonchalance, as if he'd challenged for majors a dozen times before and it wasn't really a big deal anymore.
Not gonna lie: That insouciance toward it all had me thinking he was going to crash and burn when the real spotlight shined on him, as the bright lights of a Sunday back-nine have withered many confident players before him.
That never happened, though. Clark was able to maintain that steely demeanor, even in the most high-pressure moments. It's something that most players who haven't won a major usually struggle with in their first few attempts — and something that some multiple major winners still struggle with.
To me, that was the most impressive thing about this victory. It never appeared like the situation was too big for him. Apparently, because it wasn't.
2. This was the scouting report for Clark
For those who hadn't paid too much attention to him until this year: His two best clubs in the bag have always been driver and putter, which can be a deadly combo if he's even just field average with his irons.
Well, that's all changed this year. His approach play has been his greatest strength, though it's not like his driving and putting have gotten any worse. This week, he ranked second off the tee and fourth in putting (while only 49th with his irons), but the biggest difference was his short game around the greens.
On at least three to four occasions, it looked like Clark was potentially looking at bogey, only to hit a pitch shot stone dead next to the hole and save par.
For the tourney, he ranked third in strokes gained around the greens.
Think about it this way: It's not a stretch to suggest that if two of those chip shots run 8-10 feet past the hole and he misses the putt, he loses by a stroke instead of winning by one. It all accounts for a very fine line, but that short game kept him on the right side of it.
3. If you're scoring at home, it's been a rough stretch for Rory McIlroy
That's now three straight Sundays when McIlroy was in the lead or close to it, but couldn't get it done when it mattered most.
And while you're doing such scoring, you've undoubtedly noticed that it's been nine years since his last major victory. I'm not sure I have a great explanation for any of it — and I don't think he does, either. This one is going to sting for a little while, as he had every chance to take control of the tournament and could just never wrestle it away from Clark.
The biggest mistake was a bogey on the par-5 14th hole after getting incredibly lucky with an embedded ball ruling. But this underscored the fact that nearly every single putt looked good for about 97% of its journey, only to take a late turn at the hole and fail to drop.
It recalled the final round of last year's Open Championship. He was leading that one instead of playing from behind, but he couldn't get a putt to drop at the Old Course, either. That has to be bitterly frustrating for him. If he weren't hitting the ball well or couldn't get into contention, that's one thing.
But to get there and not make anything on the greens has to make him feel like he's snakebitten once again like the golf gods are somehow conspiring against him.
4. Here's the good news for Scottie Scheffler:
After a few brutally poor putting performances — he lost strokes on the greens in five of his previous six starts entering this week — he actually gained 0.20 strokes per round at LACC.
For those who believed that just a slightly above-average week with the putter would yield a title for the tee-to-green master, that didn't happen this week. Not that the logic is flawed, he just didn't hit the ball as well as he did in his most recent start at Muirfield Village, ranking "only" third in that tee-to-green stat.
What I can tell you is that for as much as the rest of the world is vividly aware of his flatstick troubles lately, Scheffler is well aware himself, tinkering with different models and sizes throughout the past week.
I don't know if he's ever going to be the best putter in the game — in fact, I'm pretty sure he won't — but I do think he'll improve soon. And when he does, watch out. He now has three straight top-three finishes, five straight top-fives, and 17 straight top-12s.
If that putter gets warm — not even hot, just warm — he'll start turning those close calls into more wins in a hurry.
5. This U.S. Open lacked a buzz, because, well, it lacked spectators – Period
That was one of the underlying plotlines this week, anyway. (As my colleague Bob Harig said, "Golf but quieter.")
That isn't wrong by any means, but like some other sweeping declarations about this event, it deserves an explanation. The biggest issue is that the North Course was built more than a century ago – and for private play, not in hopes of someday hosting one of the world's biggest tournaments.
The WM Phoenix Open isn't a massive party just because the locals show up; it's a massive party because it's set up to be a massive party. If you build it, they will come, so to speak. They didn't build it that way at LACC, which is understandable.
The fans who were here often couldn't get too close to the action, just due to the topography of the land. With greens leading directly to tee boxes and barrancas guarding much of it, there's just nowhere to put the people. And with limited tickets available, from what I witnessed this was mostly a country-club crowd, which makes some sense, considering walk-in ticket prices were going for $300.
Most events will see a decent amount of beer-swilling, frat-bro, mashed-potatoes fans who are there to make their presence known. Everybody at this one looked like they'd had a tee time earlier that morning.
And then there's this – and I mean this from a non-LA guy who was shocked every night by how long the GPS said it would take to get back to a hotel that was five miles away: The traffic is an absolute nightmare. If you've got a chance to leave early and save 90 minutes of your life, I imagine you'd do it rather than wait out the final pairing by the 18th green.
None of this belies the lack of buzz, but trying to place blame on one particular party is trickier than it appears.
6. Some folks on social media suggested I should rip LACC North
For being unworthy of a major championship following a pair of 62s in the opening round and no scores in the 80s. Just as for Erin Hills six years ago.
My answer: We have to separate the course from the setup. While we can all agree that the USGA set up this week's host venue too cautiously to start the week, leading to those low scores, we can similarly agree that by week's end, it proved inherently worthy of having this event.
I fell in love with LACC the first time I walked around on Monday. It's subjective, sure, but I never felt close to that way about Erin Hills. Seeing a bunch of red numbers on the leaderboard shouldn't be a reason to bash a U.S. Open course, just the way it's been maneuvered for a certain round.
That said, those who did (properly) bash the early-round setup probably don't understand just how fine the line is between "a little too easy" and "way too penal." Without a championship of this magnitude on this course previously, there was little background info on the best way to approach it. (And for all the talk on why LACC played to such a low scoring average early, the easiest explanation might be that the world's best players don't miss from inside 10 feet on perfect greens. Make those surfaces poa annua and we'd see a whole lot more shorties bumping around the hole.)
We do need to give the USGA credit, though. Sure, the weather cooperated, but the week concluded with a U.S. Open-worthy track that provided a terrific stage for this event, even if the winning score wasn't something over-par like this tourney of a generation ago.
7. On this Father's Day, a shoutout to not just all the dads out there
Imagine being given the free pass to play golf all morning and THEN turn around watch the final round all afternoon and evening, but a special nod to those who have the best gig in the game. More on this below…
I've had this conversation with colleagues on a few occasions and again this weekend, but there's one specific faction of golf insiders who has things better than anyone else.
The players? Sure, they're rich and get to play golf, but there's tons of pressure and disappointment on a regular basis.
Swing coaches? Caddies? Same deal: They're all one decision away from looking for the next job.
Media members? Hell no, trust me.
Instead, the best "job" is that of an Elite Golfer Dad. I'm telling you, some of the friendliest people in the game are the likes of Gerry McIlroy, Scott Scheffler, and Rod Fowler. They've all got a nice tan, they tag along to play golf at the nicest clubs, they're all super proud of their sons, and they all get to hang out at tournaments cheering them on.
That's not to suggest the moms aren't just as great, if not more so, but the carefree demeanor of the dads in a world where everyone else is worrying about something always makes me envious of just how good they've got it.