Even the world No. 2 ranked golfer is still mesmerized by Woods at times – Let's be honest – [WHO IS NOT?]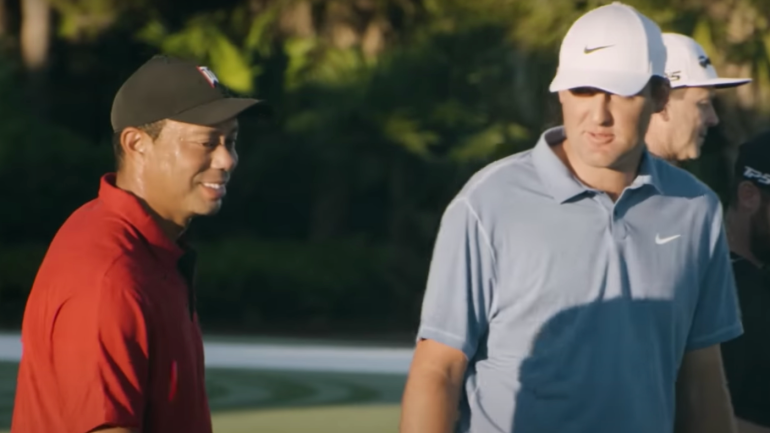 The GOATS – Old & New chopping it up on the range – what are they talking about – READ ON and be as shocked as I was and quite frankly still am! 👇👇 My Vote goes to 1997 Tiger – I know 2000 Tiger won the SLAM, but that '97 swing is just oily!
Question: What does it take to mesmerize golf's No. 2 player in the world?
Answer: Not taking any divots during a driving range routine, apparently. That's what Tiger Woods can do at his absolute best, and Scottie Scheffler simply can't believe it.
The two major champions were featured testers of TaylorMade's Stealth 2 lineup of drivers, alongside Collin Morikawa, Tommy Fleetwood and Rory McIlroy. Toward the end of the nearly 33-minute video, Scheffler, making conversation, noticed Woods had not taken any divots in his driving range stall. A curious Scheffler didn't hesitate to ask the 15-time major champion if there was a reason for the peculiar sight.
"What is up with no divots?" Scheffler asks, to which Tiger responds, "Why, do you take a divot?" Woods then explains to Scheffler that his swing doesn't result in divots when he is "swinging well."
"When I am flushing it, I don't take divots," Woods said. "Just, it is what it is."
Scheffler, in a quite obvious daze, as he tried to comprehend what he was hearing, stood awestruck. If you're wondering what renders one of golf's two best players speechless, that covers it.
Both stars in their own right, Woods and Scheffler sit at quite different points in their respective careers. No golfer carries more name recognition than Woods, but the 47-year-old has only played on a limited basis since a February 2021 car crash in Southern California threatened his golfing career. Woods last appeared in the Masters Tournament in April, making the cut before withdrawing mid-weekend. Woods later underwent ankle surgery that month, casting doubt about his ability to play again in 2023.
Scheffler, meanwhile, burst onto the scene in 2022 and has quickly become a fan favorite on the PGA Tour. Scheffler notched the first Tour victory of his career at the Waste Management Phoenix Open in February 2022, and he has since won five additional events. Scheffler won the Masters in 2022 and will take this rare TW swing nugget with him to the opening tee box on his next event