Cameron Young broke the 36-hole scoring record for the Genesis Invitational, a pretty big deal considering the annual PGA Tour stop at Riviera dates back nearly a century. There's just one slightly disappointing part about the 24-year-old's first two days: He's not even leading the golf tournament.
That's because 23-year-old Joaquin Niemann broke that record as well, thanks to a second consecutive 63. That gives Niemann a blistering 16-under-par total of 126 through two days—five shots better than the previous 36-hole low at Riviera.
"I think everything is working pretty well," Niemann told reporters after. "Obviously I'm making a lot of putts right now. I feel I'm starting my ball online with the putter. When you have greens this good when you start your line, I think you've got a good chance of making putts, so I think that's been big this week."
The young star from Chile said he didn't get much sleep with an early tee time, but he eagled the first and birdied the second. After making the turn at five under, he bogeyed the famed 10th hole before bouncing back with birdies on four of his final eight holes.
There will be plenty of time to sleep before Niemann and Young have Saturday's last afternoon tee time; however, nerves could always get in the way. Young, a two-time winner on the Korn Ferry Tour last year, will be looking for his first PGA Tour title. And for Niemann, who won at The Greenbrier in 2019, it seems that way.
"Yeah, it feels forever actually. I think it was two or three years ago. It feels a long time," Niemann said. "Obviously you play this game to try to win every week and yeah, but you know how hard it is to win here and how competitive they are, how many good players there are here. You have to be patient and just wait for my week."
At this rate, he might not have to wait much longer. Here's what else you may have missed from Friday's second round at Riviera.
Viktor Hovland turns heads
As he did on Thursday, Hovland played the 15th hole by hitting his tee shot down No. 16. And as he did on Thursday, he made par on the difficult par 4. Have a look:
Take two. 🎬 https://t.co/tqnHYsPmF4 pic.twitter.com/pLH6l7p4YJ

— PGA TOUR (@PGATOUR) February 18, 2022
After posting a second-round 64 to vault into contention, Hovland explained his eye-opening strategy.
"So I did that at the U.S. Amateur here in 2017," Hovland said. "Actually, got to give my buddy Zach Bauchou some credit. He was the guy that first mentioned it. Yeah, I did it there and I did it once last year, I believe it was the third day and it was humming downwind. I think I hit a driver and a sand wedge in there. And there's not too much trouble there I thought. Obviously that bunker on the left side is no good, but at the same time the bunker down 15 on the right is no good either. I don't know, just fits my eye."
But what caught the eyes of other people were Hovland's lightning pants. Check these bad boys out:
Lightning pants for the win. ⚡️ pic.twitter.com/3fTY6pX3dU

— PGA TOUR (@PGATOUR) February 18, 2022
"It's my first time," Hovland said of wearing the pants. "Maybe I should keep wearing them."
Hey, when you're ranked fourth in the entire world, you can wear whatever you want. And he was certainly in better spirits than the World No. 1 following his round …
Jon Rahm's remarkable streak ends
Well, he was due for a bad round. And it really wasn't even that bad.
Rahm shot a one-over-par 72 on Friday, his first over-par round on the PGA Tour since Day 1 of the Open Championship. Yep, that's right. We're talking about July. As in seven months ago.
Rahm's streak of shooting rounds of par or better ended at 34, one of the longest in tour history, and the longest since Charles Howell III also had 34 in 2003. The record, as you probably guess, belongs to Tiger Woods, who once went 52 rounds without shooting over par. Crazy.
On the bright side for Rahm, thanks to a clutch seven-foot par putt on 18, he'll get to play the weekend. Unlike the next guy . . .
Dustin Johnson's weird week
Although not technically the betting favorite entering this week (that would be Rahm), Johnson was certainly a favorite among fantasy experts, and for good reason. The two-time major champ has a sparkling record at Riviera with 10 top-10s in 14 starts, highlighted by a win and two runner-ups. But he was the most surprising player to miss the cut—especially when you consider how well he played during his Friday back nine.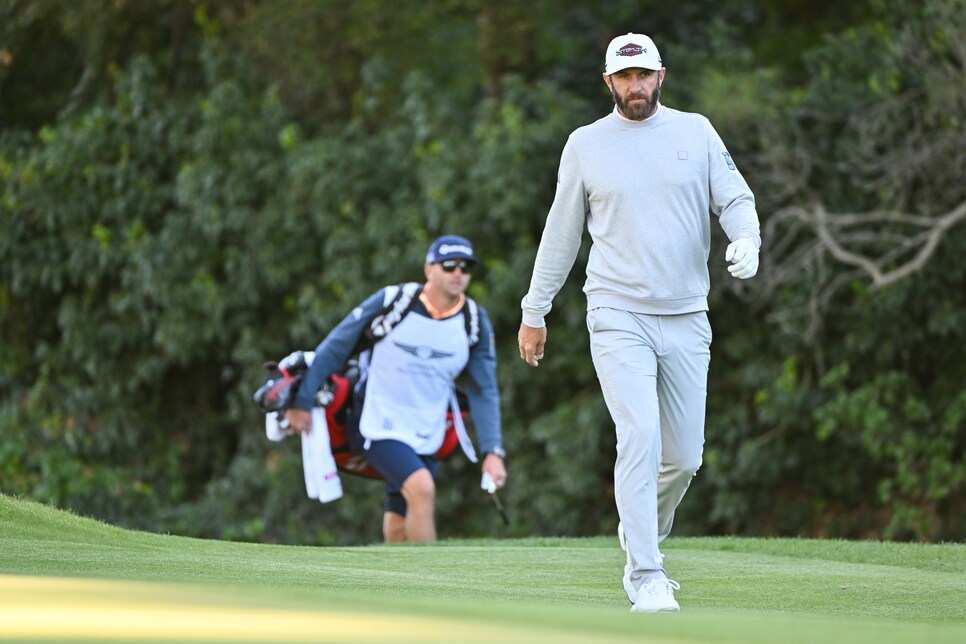 Ben Jared
Johnson closed with a bogey-free 31, capped by a birdie on his final hole. But it proved to be too little too late. His undoing? A 40 on his front nine, including a double bogey on the par-3 16th. Oh, and a 73 on Thursday that also featured a double bogey on No. 10.
And all of this amid speculation that Johnson could join the Saudi-backed Super Golf League. Although he was able to avoid the media this week, he was unable to overcome a sloppy short game that cost him more than three shots over two rounds.
It's been a slow start to the season for Johnson, who has only played in three events with a T-25 at Torrey Pines his best result. If he is thinking about leaving the PGA Tour, that can't be helping his bargaining power.
Jordan Spieth's (latest) wild ride
One guy who was using his short game to make up strokes on the field was Jordan Spieth. Shocking, we know.
The three-time major champ flashed some magic on the back nine, beginning with this chip-in eagle on No. 11:
Chip-in eagle at 11. 🦅@JordanSpieth gets to -10 and -5 on the day. pic.twitter.com/iqQwG0guh4

— PGA TOUR (@PGATOUR) February 18, 2022
But then he managed four consecutive up-and-down pars on 12-15, three of which only required tap-in putts. And despite only hitting 11 greens in regulation and losing strokes on the greens, including a three-putt on No. 18, Spieth shot 67 and is T-4 heading into the weekend.
In other words, he's just where he wants to be. Ready to make another Saturday charge—just this time at a place with no dangerous cliffs.
This article originally appeared on Golf Digest.