Jon Rahm was already one of the biggest stars in golf before his career-defining victory at the U.S. Open. The 26-year-old Spaniard's birdie-birdie finish was the perfect punctuation mark on Rahm's first major title.
You know Rahm for his elite off-the-tee game (second on tour); representing Europe at the 2018 Ryder Cup, where he defeated his idol, Tiger Woods, in Sunday singles; and maybe his on-course temper. But we bet you might not know these other 18 things about the first Spanish champion in U.S. Open history.
Rahm credits the 1997 Ryder Cup as being huge for getting his family into golf.
Rahm's father, Edorta, had never played golf or seen it in person until the Ryder Cup came to Valderrama in 1997. Rahm says he started playing and got lessons when he was 6 or 7 years old.
Among the other sports Rahm tried as a kid in Barrika, Spain, was Kung Fu.
Rahm says he played five sports up until he was 14 years old (soccer, canoeing, Jai alai, golf and Kung Fu). Rahm was a fan of martial arts movies as a kid, and when one of his friends started doing Kung Fu, he got into it.
Rahm's local coach, Eduardo Celles, started working with the Spaniard when he was 13, and he encouraged him to shorten his swing.
Rahm explains that he struggled with accuracy as a junior but still hit it farther than anyone else. Celles encouraged him to shorten his backswing for more control, and to this day, Rahm has one of the shortest backswings on tour.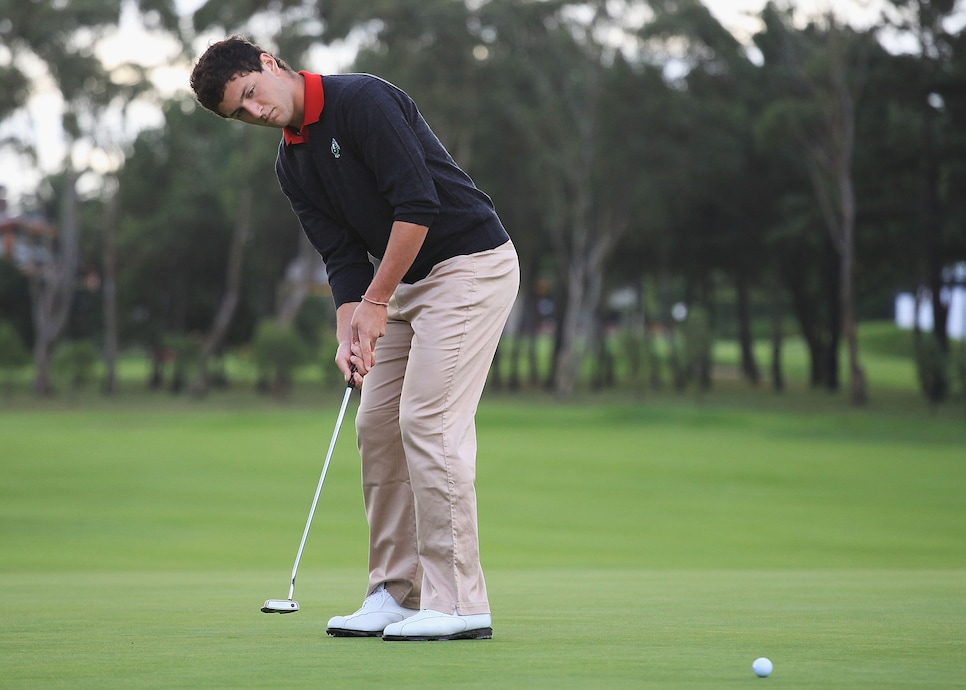 Matthew Lewis/R&A
He had never been to the United States—and spoke almost no English—before arriving in Tempe, Ariz., in fall 2012 to enroll at Arizona State.
Phil Mickelson's brother, Tim, was the men's golf coach at the time, and recruited Rahm when the Spaniard had very few offers. Rahm had to rush to take the SATs and verify his qualifications before being eligible at Arizona State in the fall, just a few months after Mickelson contacted him.
Tim Mickelson gets credit from Rahm for helping him learn English: Mickelson would make him and another Spanish-speaking teammate do 10 burpees for every Spanish word they used.
Though Rahm has said that learning the lyrics to rap songs helped him pick up slang and other English phrases not taught in a class, he says the rap part was exaggerated by the media after his win at the 2017 Farmers Insurance Open. He does cite Kendrick Lamar's "Swimming Pools" and Eminem's "Love the Way You Lie" as songs that particularly helped.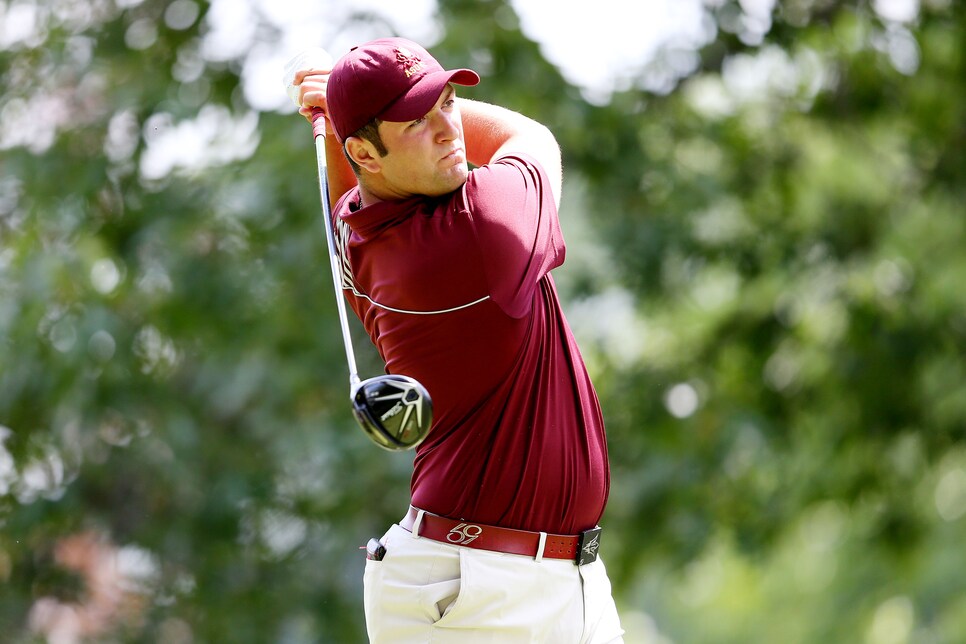 As a junior, Rahm earned a sponsor's invitation into the 2015 Waste Management Phoenix Open and finished T-5.
It was the first time since Chris Wood's T-5 at the 2008 Open Championship that an amateur finished T-5 or better in a PGA Tour event. And Rahm was just the second amateur to finish in the top five on tour since Justin Rose's T-4 at the 1998 Open.
Jon Rahm in college.pic.twitter.com/7SHZDzX9gA

— GOLFTV (@GOLFTV) June 21, 2021
Rahm became the first multiple-time winner of the Ben Hogan Award, which honors the best player in college golf.
He also rose to the No. 1-ranked spot on the World Amateur Golf Rankings, having amassed 11 tournament victories at Arizona State, the second-most in school history (trailing only Phil Mickelson). Despite the success in pro events as an amateur, Rahm stayed four years at ASU—as a promise to his parents.
Following a T-23 at the 2016 U.S. Open—where he was the only amateur to make the cut—Rahm turned professional.
In just seven starts over the rest of the 2016 season, Rahm finished T-2 at the RBC Canadian Open, T-3 at the Quicken Loans (his first pro start) and collected just a little more than $1 million in on-course earnings.
Rahm treated himself to a Porsche with those on-course earnings in the fall of 2016.
He told Golf Digest then: "It's good for me to see it, wake up every day and see what I've accomplished the last eight years."
The Spaniard showed up to our last shoot with him in 2019 in a shiny Arizona State-maroon Mercedes AMG G 63.
In addition to being Rahm's college coach, Tim Mickelson was also Rahm's agent after the Spaniard turned pro.
Mickelson left his head coaching position at ASU in 2017 to pursue an agent career at Lagardere Sports, representing Rahm until Phil Mickelson asked his brother to become his caddie.
Jon Rahm met his wife, Kelley Cahill, at Arizona State—where she was on the track and field team and threw javelin.
Rahm proposed to his college sweetheart while hiking near Torrey Pines in 2018 prior to the U.S. Open. And Rahm had the ring custom-built, as he told Golf.com in 2018: "I designed it. So Brian Stuard's [wife] is a jeweler and is a really good friend of ours. So Kelley was talking to her. She knew what Kelley wanted, but I had my own ideas. Basically, with her help, I designed the ring. She wanted to pick the diamond, but I knew what I wanted. I designed what's around the ring. It's supposed to look like a crown and an engraving inside. I had a big part in it."
The two got married in December 2019 in Bilboa, Spain.
The ceremony was in the Basilica de Begoña in Rahm's hometown.
With his wife, Kelley, due to give birth to their first son in April 2021, Jon vowed to withdraw from the Masters if she went into labor during the tournament.
Jon never had to follow through on the promise as Kepa was born a few days prior to Augusta. And though his son was just 10 weeks old when Dad won the U.S. Open, Rahm remarked: "he won't remember this … but I do." Rahm will get to tell his son all about it one day.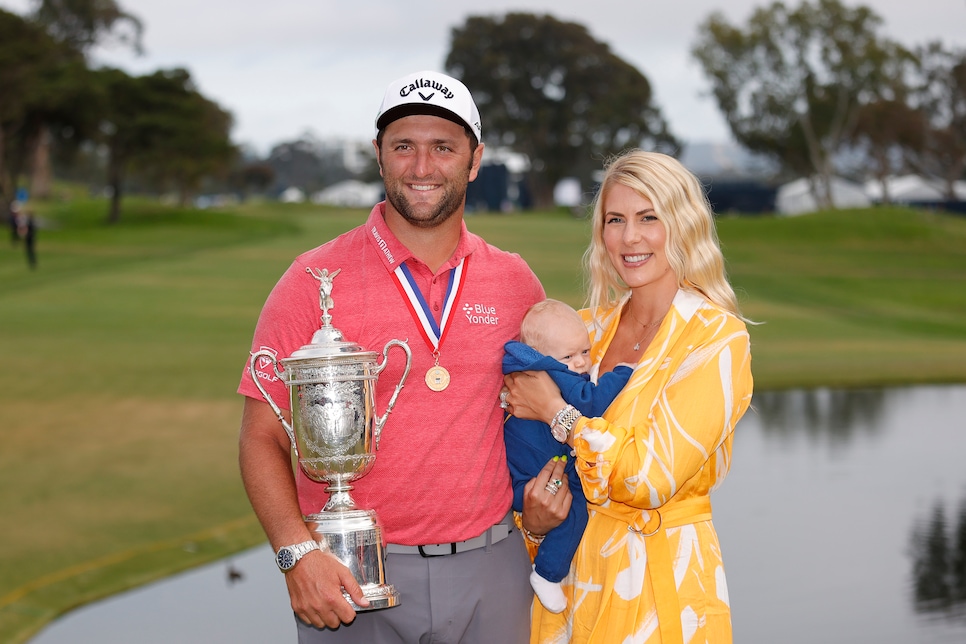 Known for showing his emotions on the course, Rahm credits a shift mentally on Sunday at the 2021 PGA in being calmer on the course.
He said about that shift over the past month: "I still had that grit, but it was almost like each miss bothered me less. I couldn't tell you why." Perhaps that's fatherhood adding that, you know, perspective.
He has worked on his temper with a mental coach, Joseba Del Carmen, who used to be a bomb-disposal expert.
Rahm told Golf Digest this in 2019: "I used to think that golf is my life, that it's who I am. [Del Carmen] was the first person to make me realize that it's not, and that golf and life are very similar. The happier I am in life, the better I'm going to play. But I'm much more interested in raising a family and being a good husband and father than I am in golf. Don't get me wrong—I want to be the best golfer I can be. If I had a gun to my head and had to choose between having only one or the other, I wouldn't pick golf. I hope people don't take that as me thinking I'd quit, but I'd choose family every time."
On Saturday at the Memorial, Rahm had opened up a six-shot lead when he was forced to withdraw after testing positive for COVID-19.
Rahm was told by PGA Tour officials immediately after stepping off the 18th green on Saturday, and the scene unfolded while TV cameras were still running—capturing an emotional Rahm on TV. To his credit, Rahm said before the U.S. Open he did not fault the PGA Tour for how it was handled—a sentiment he reiterated in his post-round interviews.
This is not the first time Rahm has earned the No. 1 spot in the Official World Golf Rankings.
The Spaniard first ascended to the top spot after winning the 2020 Memorial last July. He was ranked No. 1 for two weeks before Justin Thomas surpassed him, then Rahm retook the No. 1 ranking for two more weeks before Dustin Johnson was ranked No. 1 for the past 43 weeks.
The $2.25 million first-place prize Rahm earned at the U.S. Open gives the Spaniard more than $28 million in PGA Tour on-course earnings.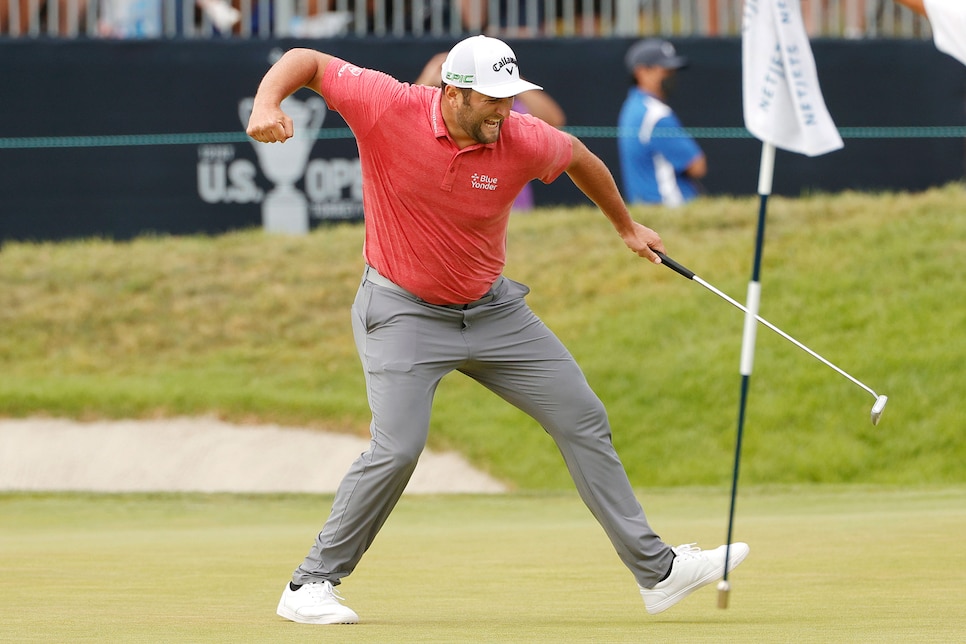 Ezra Shaw
In addition to Rahm's six PGA Tour victories, he also boasts six European Tour titles—amassing more than 6.4 million euros for those wins.
This article originally appeared on Golf Digest.