The switch flipped around the turn. Tiger Woods had been in hit-and-giggle mode for the previous two-plus days of the PNC Championship, content to play a few shots and crack a few jokes. Let us not forget that the man nearly lost his leg in February. But Tiger felt better from the moment he woke up Sunday morning, and Team Woods had the lead in sight. The smiles turned to fist-pumps. The wandering eyes locked in on the prize. Something about that Sunday red-and-black.
Tiger and Charlie put on one helluva show, dropping 11 straight birdies from Nos. 7-17 at the Ritz-Carlton Golf Club to briefly tie Team Daly for the lead. There was, incredibly, a legitimate buzz in the air for a December exhibition featuring three kids too young to drive and two men older than 80. Virtually every single spectator on site followed the Woodses all day, and those hotel guests who couldn't score the hot ticket found a hillside where they could glimpse the action. It was the group behind, however, that produced the champion: John Daly, still smokin' his smokes and drinking his Diet Cokes, and John Daly II, now a freshman on the Arkansas golf team and no longer Little, put in a spoiler performance that'd make 2009 Stewart Cink proud.
The Woodses' 15-under 57 came up two shots short, in solo second, but now we're talking semantics. Tiger will be beaming on the 30-minute flight back to Jupiter—for the way he played, the way he felt and how his 12-year-old son composed himself and performed in the high-tension moments.
Charlie Woods played a high, soft cut into the 16th green. Start it in the middle of the green, let it move toward the hole. Just like dad. Birdie. And then he topped that on the next hole, the difficult par-3 17th, when he held a 5-iron into a right-to-left wind and snuggled his ball to three feet from a water-guarded front-right flag. It was the closest anyone got on that hole, including the pros. Birdie. Both Tiger and Charlie knew they needed to eagle the par-5 finishing hole, a distinct possibility after Tiger's second crawled just over the green. As he approached his ball, the sun gleaming off his forearms and his eyes locked on a landing spot, context flew out the window. This was Tiger being Tiger.
"The competitive juices, they are never going to go away. This is my environment. This is what I've done my entire life," Tiger said afterward. "I'm just so thankful to be able to have this opportunity to do it again. Earlier this year was not a very good start to the year, and it didn't look very good. But the last few weeks, to push as hard as we have the last seven months with taking no days off and just working our butts off each and every day, and to have this opportunity to be able to play with my son and to have these memories, for us, for both of us, our lifetime, it's worth all the pain."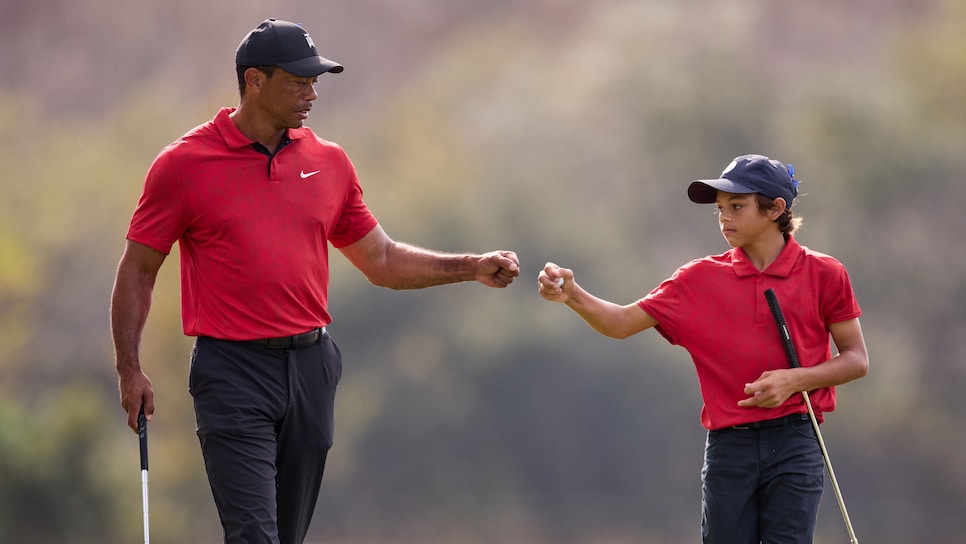 Team Woods shot an impressiive 15-under 57—with 11 straight birdies—on Sunday to finish second.
Jensen Larson for Golf Digest
This week was always going to be a test for Woods. He'd played only two or three rounds all year, and certainly not three days in a row. He'll be encouraged that he had noticeably more speed and pop on Sunday than the previous two days. He also had much better bottom-control, which is tour speak for being able to have the club interact with the turf/ball at the same time over and over. There were no drop-kick drivers, like there were on Saturday.
Justin Thomas, who Woods played with on Saturday, still came away beaming. "I was so impressed by the speed that he had and the shots he was hitting," Thomas said. "At least from my perspective, it looked like a lot of the moves and everything were there."
For all that's been made of Woods ushering in the power era of golf, his strength has always been his irons. They have survived five knee surgeries and five back surgeries, and, for the moment, a horrific car accident. Woods had tour-level distance control all week and looked comfortable shaping the ball both ways. There were high cuts and there were low draws. The shot he hit into the par-3 eighth—a 4-iron cut that pierced through the wind and still sat soft, those are Tiger shots. There were a lot of Tiger shots this week. More than anyone expected.
"Way impressed," said Sunday playing partner Matt Kuchar, who has played his fair share of golf with his fellow 40-pluser. "He's still flushing it. Still has speed. Irons are spectacular. Tiger Woods of old-like irons. Huntin' flags, pin high every time. It's awesome."
His driver swing is noticeably different; he's much more flat footed at impact, a nod to the fact he's not yet comfortable pushing off his right leg and clearing onto his left side during the downswing. There's more wrist action at the bottom that he'd like. Because he cannot generate the speed with his legs, much of it comes from the arms. It is, ironically, somewhat analogous to the way Phil Mickelson generates speed. Whether he'll move back toward that squat-and-clear motion as his leg strengthens remains to be seen. So much remains to be seen.
If this week proved anything, it's that Tiger still has the game. He can still hit the golf shots … so long as he has a ride to the next one. For a man who has lived a complicated life in the public eye, his greatest challenge moving forward is, ironically, so very simple: walking. It boils down to whether he can walk 18 holes for five straight days. Because, as his caddie Joe LaCava reminded us this week, tournament golf requires a practice round. Even for Tiger. And that's to say nothing of the practice ramp-up he'll need to get the game to a place where it can stand up to Rahm and Rory and rough. Because of the scramble format, and the Woods boys' overall proficiency at golf, we still haven't seen Tiger hit a single shot out of rough.
"I'm not … I'm not at that level. I can't compete again these guys right now, no," Tiger said. "It's going to take a lot of work to get to where I feel like I can compete at these guys and be at a high level."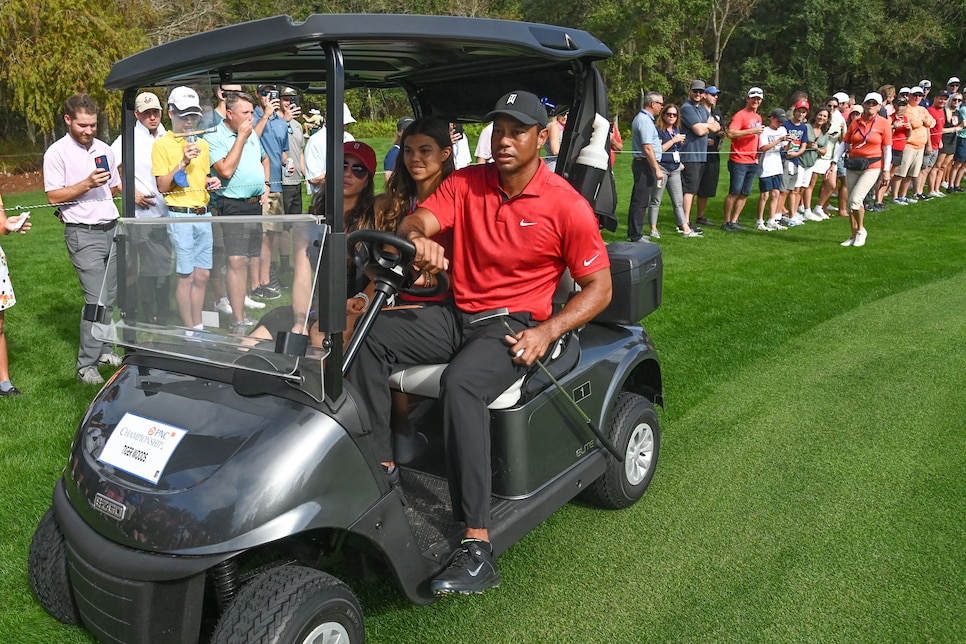 Tiger rides in a golf cart with his girlfriend, Erica Herman, and his daughter, Sam Woods, during Sunday's final round.
Ben Jared
Woods did fatigue as the afternoon wore on. There were a number of grimaces. But pain—pain he can deal with. His leg has its structural integrity back; doctors told him there was no risk of further injury this week. It would just be a matter of pain management.
As for what's next, it's more of the same. Gym work and physical therapy, every single day, multiple times per day. Woods, who turns 46 next Thursday, said earlier this week that he has not taken a single day off in his rehab. This, a taste of the intoxicating rush of competition, will only motivate him further.
"As I told you guys in the Bahamas, I'm not going to play a full schedule ever again. I'm going to have to pick and choose what events, and even then, my body might not cooperate with that. So I don't know how many events I'm going to be playing in. And it's going to be up to training sessions, practice sessions, recovery tactics, all those different things to be able to do it. As I said … [I'm] protective on it now, and just so thankful to be able to do this again because it didn't look good there for a little."
Earlier this week, Woods scoffed at the notion of requesting a cart for a PGA Tour event. "That's just not who I am," he said. "That's not how I've always been." He will take exactly zero handouts on his road back, which is nowhere near its completion. And yet this week cannot be considered anything but a hugely encouraging sign.
As for the future, well, we likely won't hear much from Tiger over the next few months. He seems to prefer dropping news out of nowhere and sending the internet into a frenzy. Until then, or until he steps into the public eye once again, he'll return to a cadence of living that's become all too familiar: rehab, rehab, rehab.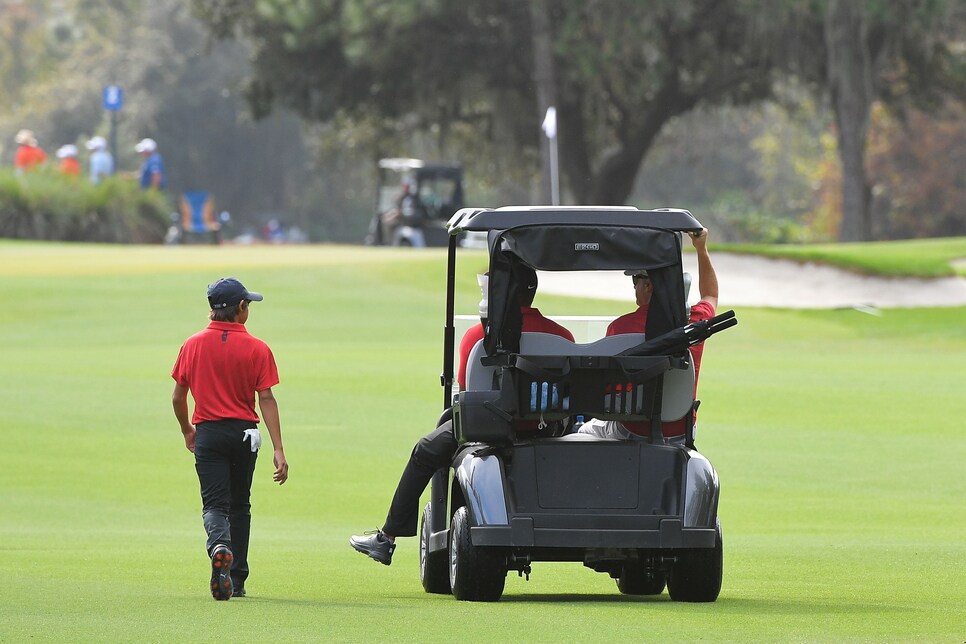 This article originally appeared on Golf Digest.