When it comes to golf practice aids or short game tools, not all putting gadgets are created equal. More specifically, putting mats.
At Birdie Town, we realized the need to create a product that not only looks good but will help you improve your game.
We looked all the putting mats on the market and realized there is a huge opportunity to create something for golfers who want to improve their game. Some mats are meant to putt when your buddies are over drinking and others make you feel like you're at mini golf with your kids.
None of them are built to help you improve your speed, alignment, and aim.
So instead of creating another average product, we wanted to create something truly epic and help lower your scores. Because let's face it, most amateur golfers struggle the most on the greens yet only work on their long game.
This is a colossal mistake.
If you want to improve this year, shoot lower scores, and win some money from your buddies, this is your putting mat. Here's why the is the best putting mat on the market.
One of the problems we saw with putting mats is that they aren't very functional. Why do you need fake bunkers, water or rough? Unless you're playing the par-5 13th at Augusta, the chances of you putting off the green are slim to none.
Instead, we designed a putting mat that will help you lock in your target and work on your speed. The Birdie Maker has no actual hole so you can utilize the entire putting surface and also has several aiming points. And at 10 feet long and 20 inches wide, it's long enough to help you practice makeable putts but still very convenient to store when not in use.
Another problem we found with a lot of putting greens is that some are made with very cheap material. Some of the competitors mats feel like you are putting on shaggy carpet more than an actual putting green. To change this trend we made the Birdie Maker feel like you are putting at any course as it features a stimp rating of 10. This helps simulate putting during your round so you can gain more confidence the next time you head out.
Built-In Putting Improvement Capabilities
Birdie Maker is designed to help you practice at the home or at the office with purposeful practice. This is a great mat to master both speed and direction in mind.
Here's how:
The Instructional Side (Aim + Alignment)
For starters, the mat has a ball position putting guide to make sure you have the ball in the correct part of your stance. Then, it has the putting "T" ahead of the mark to make sure your face is square to the target. Because if your face isn't aligned to the intended target, good luck ever holing putts like Tiger.
Plus, it has one regulation size hole to help you aim at from the back of the mat. But if you want even more precision, you can also aim at one of the two small target holes on either side of the regulation size hole.
This will help you improve your misses to where they are an easy tap in on the course. The less four footer knee knockers you have, the better you are going to score.
The Feel Side (Speed Zone)
Another thing we noticed when checking out competitors is that their mats focus solely on making putts and don't reward your speed at all. To offset this trend, we made the Birdie Maker a reversible mat so you can also putt towards the three different speed zones. This will help you practice your speed to each different zone.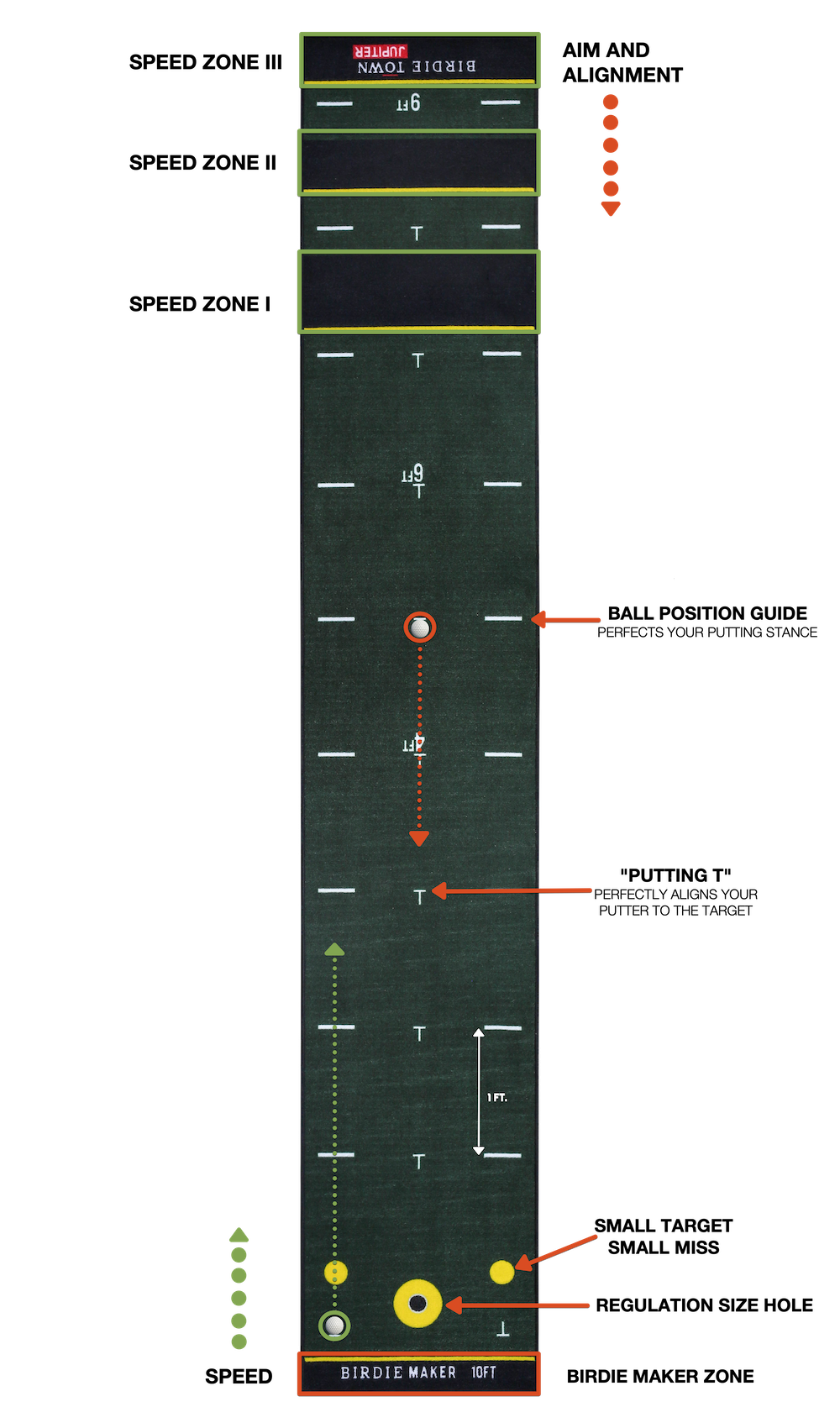 The last feature about the Birdie Maker is that it's extremely easy to store and clean. The mat itself can be washed, vacuumed or spot cleaned. Plus, it won't leave any traces on your putter. And when it's not in use, it's easy to roll up and store in your garage, office or closet without taking up much space.
Final Remarks of the Birdie Maker
If you're looking for a putting mat that is not only great to look at but extremely functional this one is for you. The Birdie Maker will help you improve your speed, aim, and alignment to make sure you're practicing for success.
As the great Arnold Palmer said, "Putting is a fascinating, aggravating, wonderful, terrible, and almost incomprehensible part of the game of golf."
Here's to hoping the Birdie Maker will make golf a lot more fun and a lot less aggravating.
Birdie Maker will enable you to:
Develop the proper feel on various lengths putts
Lock in your target, aiming your putter head perpendicular to your intended target
Train your mind, eyes and body to align properly